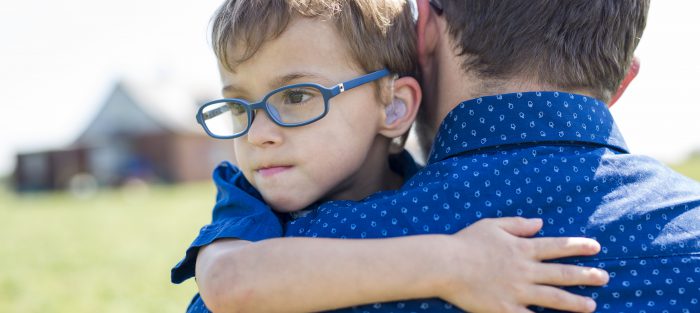 Five minutes with South Gloucestershire foster carer Lucy
May 2020
Lucy is 28 and has been fostering with South Gloucestershire Council for a year. Lucy had always known she wanted to help children and young people in difficult circumstances. She talks here about what her experience of fostering has been like so far. Lucy lives at home with her partner Graham and their three year old daughter.
What made you decide to apply to become a foster carer?
I had a great home life throughout my childhood but suffered from bullying through every school year. I've always wanted to support children and young people to increase their confidence. I looked in to fostering and decided it was something I could do. I felt it was a way I could be there for children at a difficult time in their lives.
How have you found your first year of fostering?
It's been really busy and a lot to learn. I've been fostering on a short-term and respite basis as we are still learning as a family but we've also had our first long term placement, which has been a great experience. I've got to know the young person well and have been able to help them in lots of different ways. In total we've had nine children and young people placed with us for different lengths of time.
What support do you receive as a foster carer?
My social worker is a great support and always listens to my opinion. I've also had really good support from my foster carer buddy, who has been able to help me through my first year.
Do you work as well as foster?
I find it easier to focus on the children and young people and I've got a 3 year old daughter so I'm kept quite busy! I feel it is easier to not work when you foster but I know lots of foster carers do make it work.
How has your daughter responded to you fostering?
She has been really good. We explained at the beginning what fostering was going to be like and what that would mean for her. She understands that the other children and young people can't live at home so need to stay with us for a while. There are times when she would prefer not to share me but I just include her and make sure she is involved. Overall we've been really pleased how well she has taken to it.
Has anything surprised you about fostering?
It is quite emotional when you see children and their families coming together and all the emotion that brings. I've had support from my social worker at these points. It's been nice to be able to create booklets for the children to take with them to their next move when they are only staying with me for a short time. It's great to know I'm helping their next placements to understand them better from the start.
What advice would you give to anyone thinking about applying to foster?
Make sure you know yourself and what your weaknesses and strengths are. I go to the gym and swimming as it's important to fit in some you time too. I also want to say to those who are interested but think they might be too young. Age shouldn't be a barrier to becoming a foster carer – don't question yourself. If you are willing to learn you will be fine.
Interested in finding out more?
If you think you could welcome a child into your home we would be keen to hear from you.  Join us at one of our Fostering Information Sessions.  Or if you would like further information, please fill in our Online Enquiry Form, call Emma on 01454 866423 or email fostering@southglos.gov.uk
Contact details
Interested?
Contact South Gloucestershire Council's fostering team on
01454 866423
Alternatively...
Click to email us