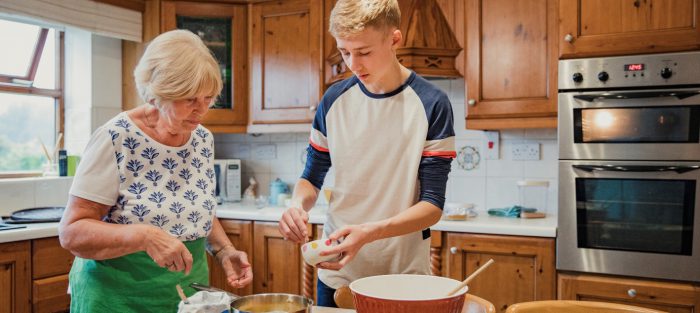 The Therapeutic Parenting Pathway
We have a Therapeutic Parenting Pathway Project Team in South Gloucestershire which supports children and young people whether their plan is to return home from a residential placement (with a carefully planned transition) or move to a foster family. The team also supports children to remain in their families or with their foster carers when there are difficulties (if it is assessed as realistic for them to remain there).
The Therapeutic Parenting Pathway offers flexibility and creativity in order to respond quickly to changing needs at key points in a child's life taking account of their family situation. For example, transitions; from nursery to primary or to junior or secondary school, entering adolescence, changes in birth family, foster family or to Care Planning.
Team Around the Family
Our Therapeutic Parenting Pathway adopts a Team Around the Family approach for all looked after children and young people and their families systemically to identify where support is needed. It is also a way of identifying where the strengths are in relationships and aspects of the child's life. Regular Team Around the Family meetings will focus on the needs of the child and will also systemically consider the needs of other members of the foster and birth families alongside those of significant others.
We recognise that all children and young people who are looked after have suffered some form of trauma and loss so all our foster carers and parents are offered training and support to care using a therapeutic parenting approach.
The Three Tiers
We have described our Therapeutic Parenting Pathway in three tiers:
Tier 1
All children and young people who are looked after have some level of trauma and loss and deserve parenting that reflects this and supports them to deal with this. Training, support and the right resources for the child are available to all using the Team Around the Family model to identify need as explained above.
Tier 2
Some children need additional resources to have their needs met and their foster carers or parents may need an additional level of support to care for a traumatised child or young person. This can include more regular Stay Over care (previously known as Respite), additional mentoring, therapy and access to specialist support.
Tier 3
Provides an Intensive Therapeutic Parenting Fostering package for our children most damaged by trauma (Adverse Early Years Experiences, ACES).
This is a bespoke therapeutic package of support which will be designed to meet the particular child's identified needs and is expected to evolve through regular Team Around the Family meetings.
Tier 3 Intensive Therapeutic Foster Carers
It is acknowledged that although caring for deeply traumatised children can be extremely rewarding this work is complex and will inevitably impact on the emotional and physical resources of those doing the caring.
Therefore, we may offer an exceptional payment to foster carers who look after children where they have been identified as deeply traumatised and in need of intensive therapeutic parenting.
Intensive Therapeutic Foster Parents will receive additional therapeutic training and support and will be part of the initial matching consideration process in respect of the children who have been identified as being in need of care which exceeds children in the mainstream therapeutic pathway (Tier 1 and Tier 2).
The bespoke therapeutic package will be monitored by the Team Around the Family meetings in order to identify any areas of fragility and address them quickly for the child and family.
Please see L and R's Profile for an example of a young person looking for a foster family.
Tier 3 Criteria – the child will be moving from residential care to birth family or significant others or to foster care
There is no specific criteria which will determine who can become an Intensive Therapeutic Foster Parent within the Therapeutic Parenting Pathway Project Team. This will depend largely on the attributes of the carer and on the level of trauma related needs of the child they care for.
The requirements of these carers cannot be met by training alone as it is also based on attitude and aptitude and the capacity to develop the skills to care for the identified child.
We are looking for carers who fundamentally encapsulate the Dan Hughes 'two hand model' – managing to maintain boundaries while being warm, empathetic and accepting. Our children and young people need individuals to care for them who are interested in their inner world and who remain curious about understanding them within the context of their experiences and life story.
The ability to connect with children and young people is important, demonstrating some of the playfulness that Dan Hughes also talks about. His PACE model is based on the capacity to be Playful, Accepting, Curious and Empathic however challenging the situation and to be able to offer a response to a situation which is not reactive.
We are not looking for 'perfect' foster parents but it is very important for carers to be people who are capable of reflection on their own behaviours and feelings, to be aware of their own areas of fragility and vulnerability and to be willing to address and seek help with these.
It is crucial that these carers are able to be open when things have been difficult or not gone according to plan and to acknowledge, both to themselves and the child, if they have been tired, or anxious, or cross and feel able to ask for help or guidance. Self-awareness is a very important part of being able to offer this care.
It is equally crucial to be able to stay connected to the child through difficult times and to focus on the successes and build on the strengths.
Expression of Interest
If you are interested in becoming be a foster carer for a child or young person in need of intensive. therapeutic care, as a full-time foster carer, "stay over" carer, buddy or as a specialist within this service please use our Fostering Enquiry Form to express your interest and request further information or telephone Sandra Lemon 07768173812 on or Tracey Snowdon on 07770368662 or email: TherapeuticParentingPathwayProject@southglos.gov.uk
Join our team and make a difference!
Contact details
Interested?
Contact South Gloucestershire Council's fostering team on
01454 866423
Alternatively...
Click to email us