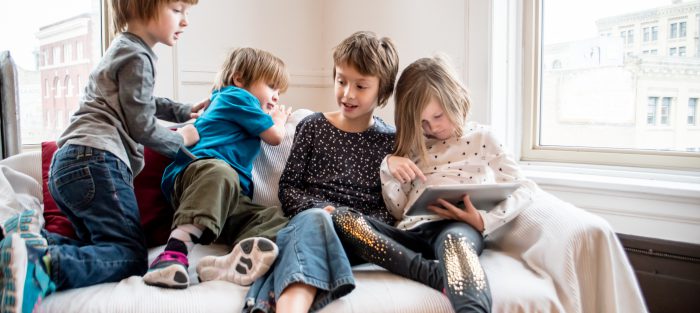 Could you care for Jocelyn, Jack, Katy and Tommy?
Jocelyn (Joss) is a 9-year-old who is very protective of her brother, Jack aged 8, and twin brother and sister, Katy and Tommy, who are 4.
Their mother developed mental health problems after their father died in a tragic accident three years ago and unfortunately she was unable to meet her children's needs.   Joss took on the caring role for her young siblings and they now still look to her for comfort and support as they find it difficult to accept care from the adults currently looking after them.
The children are currently living with relatives but this was only ever supposed to be a short-term arrangement. The four children are very close and it's very important that they are found a foster family together.
Joss is an articulate child who can be very outgoing and confident. It's almost as though she feels guilty about having fun and receiving the attention and care that she needs as a 9-year-old. She can present as worried and tired and has problems sleeping. Consequently, Joss struggles at school with her learning and friendships because she prioritises the needs of her siblings and finds it hard to let the adults take responsibility.
Jack is a happy little boy on the surface and it is believed that Joss has helped his development by being the consistent support in his life and looking out for him. Jack does not take on any of the caring responsibilities for his siblings and he can provoke them sometimes. He loves to be outside and appears to have a real talent for tennis. Jack is making good progress at school, both in his work and in his friendships. He is a very popular child and, being so close in age to Joss, this can be the source of some resentment.
The twins are delightful and are also making good progress. Katy loves dancing and Tommy likes nothing more than kicking a football wearing his Arsenal outfit. The twins love their guinea pigs and rabbit and would want them to move to their new family with them.
All the children are fit and healthy but it is envisaged that they will all require support emotionally – especially Joss. They have experienced emotional harm from neglectful parenting but all the children value the relationship they have with their mother and like spending time with her very much. This can create some problems around frustration because she cannot always give the children what they want from her.
Caring for these four siblings is guaranteed to be hard work and may be overwhelming at times but will also be extremely rewarding for the right foster carers. The children need sensitive and insightful care giving from foster parents who can put structure and firm boundaries into their lives. They also need carers who have a really good sense of humour and will only pick the battles which need to be had!
Joss, Jack, Katy and Tommy need a loving home with a family who will accept them each as they are and promote their individual development and interests. Could you be that family?
If you feel that Jocelyn, Jack, Katy and Tommy could join your family we'd love to hear from you.  Join us at one of our Virtual Fostering Information Sessions.  Or if you would like further information, please fill in our Online Enquiry Form, call the Fostering Team on 01454 866423 or email fostering@southglos.gov.uk
Contact details
Interested?
Contact South Gloucestershire Council's fostering team on
01454 866423
Alternatively...
Click to email us