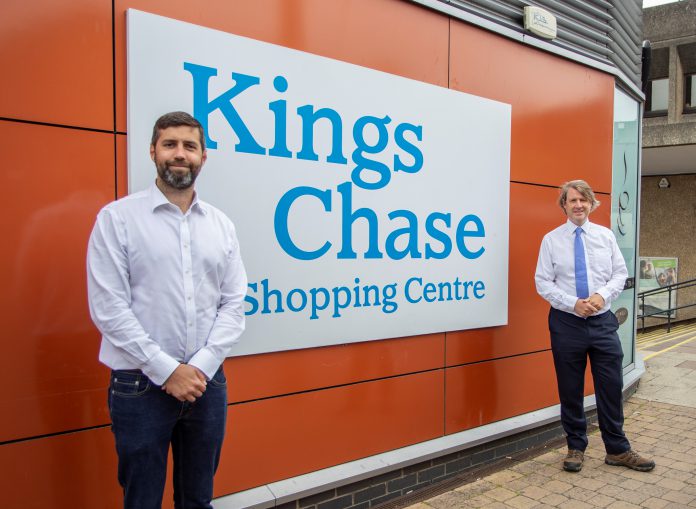 South Gloucestershire Council has completed a £10m acquisition of the Kings Chase Shopping Centre and car park in Kingswood in a major step towards its long-term regeneration vision for the Town Centre.
This is a critical investment in the Future High Streets Fund Business Case, which was awarded funding by the Government on 26 December 2020, and completion of the purchase enables the Council to develop plans for further investment into improvement, redevelopment and regeneration works in and around the High Street.
Options for redevelopment include the potential for leisure, housing and community services to complement the retail experience, as the Council explores innovative new ways to bring vitality to the high street.
The Government funding was established to support transformational investment in property and infrastructure as part of a reimagination of UK high streets, and the Kings Chase shopping centre was identified as a critical asset for the long-term viability of Kingswood as a hub for the local community for shopping and centre of local employment. A public consultation on the Masterplan will be undertaken this Summer.
Recently the private sector has been unable to deliver much needed investment and a planned development did not come forward. The Council have secured funding from the Government and commitment to an additional capital investment budget to acquire the site and begin a first phase of improvement and redevelopment works.
Council Leader, Councillor Toby Savage said: "I am really excited to be able to confirm that we have completed the purchase of Kings Chase shopping centre and car park, which has been the subject of many months of hard work alongside the development of a Masterplan.
"We are extremely ambitious for the future of Kingswood and this acquisition is critical to our ability to deliver something truly transformational. Alongside the funding now in place to transform the public realm on Regent Street and with the building work to restore the Whitfield Tabernacle now underway, I look forward to the opportunities this will bring to the community.
"The support from local people and stakeholder groups in Kingswood through the public engagement we have conducted was critical in our success in accessing Government funding. This collaborative approach has allowed the public sector to intervene where the market is struggling."
Kingswood MP Chris Skidmore said: "I have been a proud advocate for the Council's Future High Streets Fund business case and was delighted to see the Government co-investing in this. Seeing the Whitfield Tabernacle alive with building work and now this vital acquisition being concluded presents the start of an exciting future for Kingswood town centre."