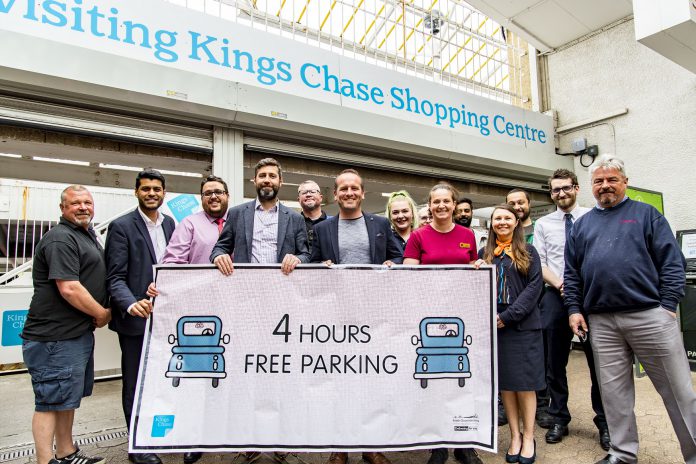 Shoppers and visitors to Kings Chase Shopping Centre in Kingswood can now park for up to four hours for free thanks to South Gloucestershire Council.
The free car parking is part of the council's regeneration plans for the town and follows their purchase of the shopping centre in May 2021. Offering four-hour free parking will benefit shoppers, visitors and retailers in Kings Chase and provide a boost for the town centre as a whole.
The removal of the parking charges, which was considered following a campaign led by the local MP, brings the car park in line with the longstanding policy of providing free parking in all council owned car parks across South Gloucestershire, helping to support local communities by removing an important barrier to visiting.
South Gloucestershire Council Leader, Councillor Toby Savage, said: "We have exciting and ambitious plans for the future of Kingswood and are investing £25 million into the area to improve the town centre and surrounding areas.
"Providing four hours free parking at Kings Chase Shopping Centre means that people can come to shop and stay a little longer to explore all that Kingswood has on offer such as the wonderful parks and open spaces. This is just one element of our work supporting Kingswood's success as a vibrant and sustainable community, where people want to live and young families to put down roots.
"Other work includes the partial pedestrianisation of Regent Street, which will enhance the shopping experience and improve air quality, the complete renovation of the Whitfield Tabernacle to supplement the arts and cultural heart of Kingswood, and supporting the relocation of the Kingswood Leisure Centre to the town centre."
Kings Chase Shopping Centre Manager, Kadir Mustafa, said: "We are delighted to launch our new free parking initiative at Kings Chase. With the unprecedented cost of living crisis biting hard we are committed to relieving the pressure on our customers wherever we can. We hope that this removal of parking fees combined with our strong line up of value led retailers will make life a little easier for the Kingswood community during these difficult times."
South Gloucestershire Council has recently approved a masterplan for Kingswood which aims to unlock a shared future vision that will bring improved experiences for shopping, culture, heritage and green spaces to the area. The Kings Chase Shopping Centre is an important element of the plan and will provide an improved commercial and leisure offer within the community. The centre will accommodate the new leisure centre and the wider building will also potentially include new residential uses.