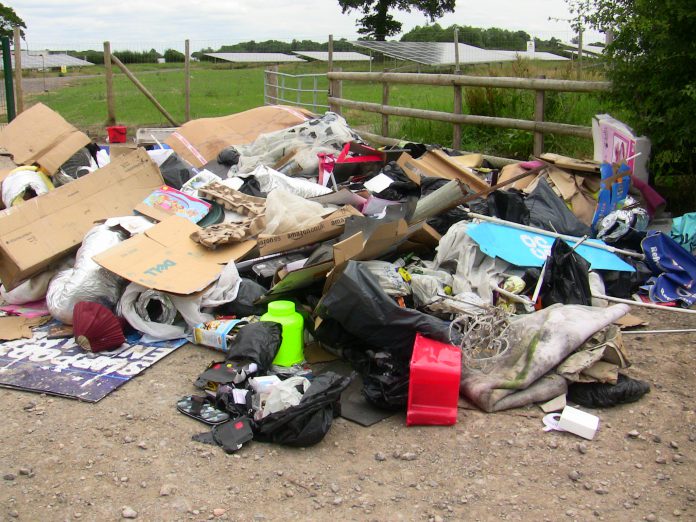 A man from Little Stoke has been ordered to pay a total of £2,314.41 in fines and costs after being found guilty of waste related offences in South Gloucestershire.
David Allen, aged 45, of Tetbury Close in Little Stoke, South Gloucestershire was prosecuted by our environmental protection team after a large amount of waste was seen being fly tipped alongside a lane in Winterbourne, near to the M4 motorway.
The court heard that in June 2017 a substantial fly tip took place at Trench Lane, Winterbourne, and a witness observed a man with a flatbed van at the location. Evidence was found amongst the fly tip relating to a public house in Patchway, and it was subsequently discovered that Allen had been paid £300 to remove the waste. CCTV footage from the pub showed Allen loading the waste on to, and leaving in, a vehicle that matched the one seen at Trench Lane by the witness.
Allen was interviewed under caution in November 2017, where he admitted that he had received £300 to collect the waste found at the fly tip. However, he claimed that he had borrowed the lorry from a friend.
Allen admitted to having no Waste Transfer Note or documentation and stated that he believed his lorry owning friend would have had whatever was required. He confirmed that he collected the waste and had control of both the waste and the vehicle, but stated that when he returned the vehicle to the owner the waste was still on it. He claimed that he had paid the owner £150 for use of the vehicle and that the owner offered to get rid of the waste.
There was no direct evidence placing Allen at the scene of the fly tip, however he was charged with alternative offences including not producing a waste transfer note, failing in his duty of care to ensure the person to whom he transferred the waste was authorised and refusing to name his 'friend.'
Allen pleaded guilty in court and was handed a £1,000 fine, along with a £40 victim surcharge and ordered to pay £1,274.41 in costs to the council, making a total of £2,314.41.
The case was heard at Bristol Magistrates' Court on Wednesday 20 June.
South Gloucestershire Council's Cabinet Member for Communities and Tourism Cllr Paul Hughes said: "Fly tipping is an issue that negatively affects our communities and local environment and this activity will not be tolerated in South Gloucestershire. Waste crime puts the environment at risk and anyone found to be fly tipping will be prosecuted. We have a 100 per cent success rate with our fly tip prosecutions, and every time we have taken a case to court for environmental offences we have been successful.
"Residents and businesses are advised to only give their rubbish to an Environment Agency registered waste carrier. Contractors should ensure that they hold a Registered Waste Carriers Licence and they comply with the Waste Transfer Note requirements."
You can carry out these simple steps to make sure your waste is disposed of legally:
Ask for a copy of the company's waste carrier registration certificate and ask where the waste is being taken. Legitimate firms will be happy to provide this information. Do not be tempted to use people offering cheap waste clearance on sites such as Facebook and Gumtree unless you have confirmed that they are registered with the Environment Agency
Check whether the waste carrier is registered by calling the Environment Agency on 08708 506506 or by checking on their website https://environment.data.gov.uk/public-register/view/search-waste-carriers-brokers
Ask for a registered trading address and contact telephone number for the trader and get a receipt.
Unwanted goods and household or garden waste can all be disposed of at no cost via the council's Sort It centres.
Residents who see illegal fly tipping are encouraged to report it by using our web form at www.southglos.gov.uk/flytipping or emailing streetcare@southglos.gov.uk