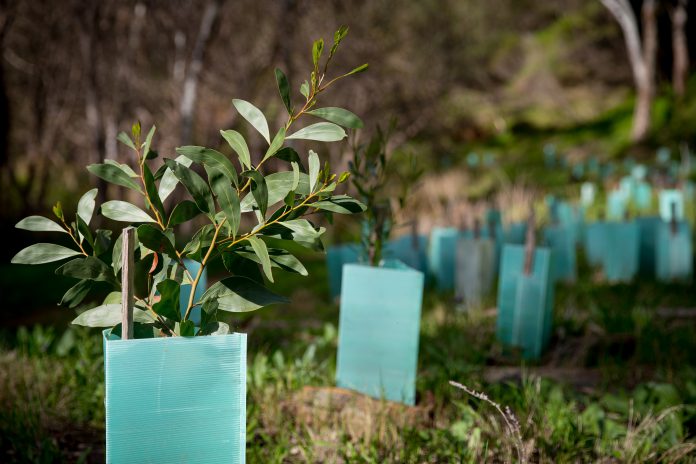 It's National Tree Week from Saturday 28 November until Sunday 6 December and this year we are celebrating by working with three local tree nurseries and the Forest of Avon, to promote tree planting at home, with 300 free vouchers available for residents to claim and plant their own tree.
Planting more trees in South Gloucestershire is part of our Climate Emergency commitments and we are aiming to plant enough trees by 2030 to double our tree canopy to improve biodiversity and keep our local environment healthy.
We do not own enough land to plant all the trees that are required, so it is important that we work together to plant more trees and support our environment. Trees clean our air by removing harmful carbon dioxide from our atmosphere and they are essential for life on our planet; from producing the air we breathe, to giving us food to eat. Trees also support wildlife, provide shade and even help to prevent flooding and soil erosion.
One of our major planting projects this year is to put 5,000 trees on our disused landfill site near Easter Compton in partnership with Avon Wildlife Trust. The site is not used by the public and part of the site produces landfill gas which is used to generate electricity.
Cabinet Member for Regeneration, Environment and Strategic Infrastructure, Cllr Steve Reade said: "We are committed to becoming carbon neutral by 2030 and Tree Week provides us with an opportunity to highlight the vital importance of trees to our local, national and global environment. To achieve our ambitious target, we need to work together across the board to plant trees and double the current tree canopy cover in South Gloucestershire, not only for our own benefit, but for our children, grandchildren and future generations to come.
"Last year we announced we were embarking on a massive planting project over the coming three years to plant 15,000 new trees across our communities on council owned land – averaging 5,000 a year. I encourage people to claim a free, tree voucher during Tree Week and join us in planting more trees to help in the fight against climate change. Trees also boost biodiversity, keeping our air clean while providing important habitat for our local wildlife."
Increasing our current tree canopy cover with a diverse range of trees, will also help to counteract the loss of trees infected by Ash die-back disease. We remove any infected trees on our land when they pose a danger to the public or could damage property, such as those on roads, footpaths and in parks. We replace these trees locally wherever possible.
You can use your voucher to claim a tree from one of the three participating tree nurseries or opt to have a tree planted on your behalf by the Forest of Avon if you don't have anywhere to plant one at home. Regardless of where your tree is planted, we will all benefit from planting more trees in South Gloucestershire.
To claim a free tree voucher is visit www.southglos.gov.uk/treeweek and follow the instructions.
For more information about tree management in South Gloucestershire, visit www.southglos.gov.uk/trees