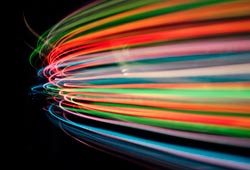 The Phase 1 Superfast Broadband Project contract was signed in January 2013 with British Telecom (BT) and Phase 1 completed in March 2015. The project was a huge success, with more homes and businesses provided with access to superfast fibre broadband than initially planned. The project completed on time and came in under budget, leaving an underspend to re-invest into expanding the fibre broadband network even further across South Gloucestershire.
In March 2015 the Phase 2 Superfast Extension Programme (SEP) contract was signed with BT. This second phase of the programme continued to push fibre broadband into the harder-to-reach, rural communities of South Gloucestershire. The excellent take-up of the new fibre broadband services from Phase 1 provided clawback funding to re-invest into the Phase 2 rollout. It is envisaged that the second phase of the build will complete in December 2017.
As well as the Phase 1 and Phase 2 rollouts, in December 2016 an open procurement for a Phase 3 was launched. This is intended to continue to push fibre broadband coverage into the remaining areas of South Gloucestershire who are not currently receiving a broadband service.
To find out more visit www.southglos.gov.uk/broadband or contact digital@southglos.gov.uk.