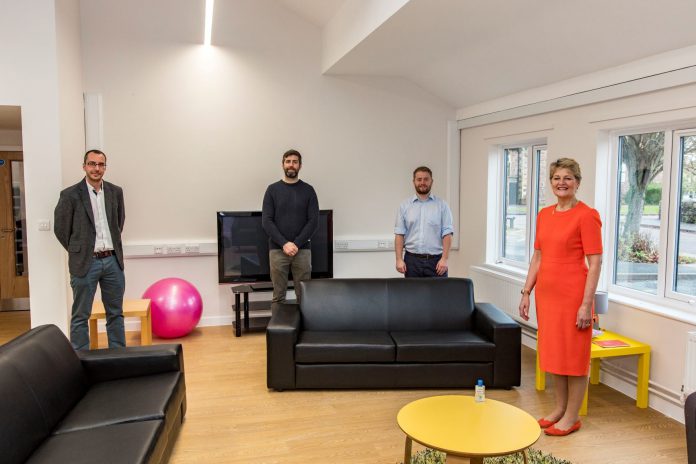 A new supported living scheme, which will provide homes for 18 young people in a converted former older persons' care facility in Yate, is now complete and has welcomed its first new residents.
South Gloucestershire Council has worked with Solon South West Housing Association, 1625 Independent People and young people to design and build the new accommodation.
The former care home at Woodleaze has been converted to provide 18 self-contained studio flats for young people, with common spaces and facilities to allow a range of support services to be delivered on site.
The young residents, who have begun to move over the past few weeks, are all aged between 16 and 25.
The project will help to meet a need in South Gloucestershire to provide additional support for care leavers, who will make up half of the residents.
The other half will come from a range of other backgrounds, including young people who are homeless or at risk of homelessness.
The Council sold the old building and grounds to Solon, a local housing association, on a 60-year lease after the care facility closed down.
The redevelopment has cost £1.9m. Solon has invested £1.17m in the project with the Council accessing £100,000 in grant funding and Homes England providing a generous £630,000 grant funding to support the project.
Support for the young people living at Woodleaze will be delivered by 1625 Independent People, working alongside a number of community partners.
The principle behind the project is to help vulnerable young people make the transition to living independently, by giving them the skills and confidence they need to succeed in life.
1625 Independent People will provide training in a range of life skills, help young people to realise their talents and support them to access training and job opportunities.
The charity will continue to actively involve young people in designing the services provided at Woodleaze.
By putting the surplus building to this new use, the Council will deliver additional value for money for all residents by substantially reducing the number of young people placed in expensive temporary accommodation.
The needs of those young people will be met in the new scheme, which will provide excellent standards in the provision of accommodation and support.
Council Leader, Toby Savage, and Cabinet Member for Children and Young People, Sam Bromiley, joined representatives of the partners who have helped to make this project a reality for a socially-distanced tour of the new homes, before the first young people moved in.
Councillor Savage said: "This project has been something we have worked on for a long time now and I am delighted to see it to completion. This is a great example of how we can work with partners and the local community to provide better outcomes for young people and value for money the whole district. This is a wonderful way for the council to invest an unused old building into the future of those who need it most."
Councillor Bromiley, said: "We want all of our young people to get the best possible start in life and for some young people, including those leaving the care system, they need additional support. These wonderful homes at Woodleaze and the support they will get here, will give residents the start in life they deserve.
"It is great that the young people who live here in the years to come will be able to move into their own homes, with the support they need around them, and get better outcomes than they may get in placements that can be very costly and a long way away from where they grew up.
"Woodleaze will provide a springboard to independent living for vulnerable young people in South Gloucestershire and the success of this project will be a springboard for further projects with our partners to increase our ability to provide this sort of housing and support to young people here in South Gloucestershire in the future."
Anna Klimczak, Chief Executive of Solon South West, said: "We are driven by the goal of providing excellent homes and housing services for all and so the opening of the new Woodleaze accommodation is important to us because it will directly help care leavers and young people at risk of homelessness.
"We are really proud to have been involved in the transformation of an old fashioned and unloved care home into high-quality modern accommodation that will provide much needed support for 18 young people.
"We have enjoyed working closely with 1625, South Gloucestershire, Homes England and young people over the last two years to make the scheme a reality. We would also like to thank both NKS Contract Ltd and Kendall Kingscott Ltd who have helped us to provide such a well-designed and quality end-product."
Dom Wood, CEO of 1625 Independent People, said: "It is amazing to see Woodleaze opening after a long period of development.  The scheme sees great vision from South Gloucestershire Council become a reality thanks to the fantastic redevelopment work undertaken by Solon South West Housing Association.
"We are very much looking forward to delivering an excellent service for, and with, young people and we want to engage a whole host of local community organisations in making a real difference in young people's lives.
"A stable place to call home is the starting point young people need to become the best they can be and Woodleaze will provide the opportunity for young people in South Gloucestershire to become the adults that they aspire to be."