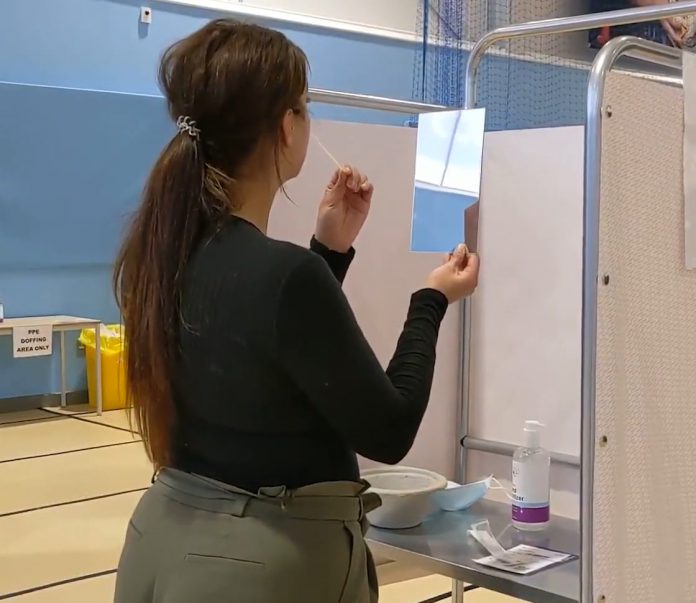 The Rapid Testing programme, which offers quick turnaround Lateral Flow Tests (LFT) for Covid-19 is expanding, with the service now open at Yate Parish Hall (Station Road, BS37 4PQ).
Rapid Testing is an important tool in helping to break the chain of transmission of the virus. The tests are for people without symptoms and help detect cases of Covid-19 that we would not otherwise know about.
The testing service offers appointments seven days-a-week, from 8:30AM – 5:30PM, with late opening until 7:30 twice a week, to help meet demand and offer flexibility to people working in critical roles to get tested regularly at a time to fit around their jobs.
Rapid testing facilities are already open in Bradley Stoke and Kingswood and with this additional site in Yate, more people can take regular tests as close to home as possible.
Since the programme began in January, more than 8,600 tests have been conducted, helping us to identify 92 cases of Covid among people who had no idea they were infectious and could potentially spread the illness. By identifying these early through regular testing, we can break the chains of transmission. This work is helping to drive down the rate of new infections in South Gloucestershire.
We are encouraging anyone who cannot work from home and who have to be in contact with colleagues and the public in order to do their jobs to come for regular testing. Many of these individuals are providing vital services to the community during lockdown and we would like them to take a test, ideally twice a week. Testing is also open to those who live and work in the Kingswood and Bradley Stoke areas, and now in the Yate area, even if they are working from home.
A range of other workplace testing programmes are already in place nationally for other groups, such as people working in care homes and those staff attending school during the lockdown. This programme is designed to complement those arrangements.
We are particularly encouraging people from the following groups to come forward for testing:
• Personal carers, social workers and health visitors
• Early Years settings staff
• Emergency Services personnel, such as police, ambulance and fire officers
• Supermarket staff
• Funeral Directors and crematorium staff
• Bus and taxi drivers.
The testing is also available to people working for local businesses which are able to safely and legally continue trading during the lockdown; to teachers and primary care staff who are not able to access testing through a workplace scheme; and those in the voluntary sector providing services during the pandemic such as food banks. We are also encouraging testing for those who are active in their communities, volunteering or providing help to people who are shielding or needing to self-isolate.
Students who are resident within South Gloucestershire and who have been invited to return to their university or college to resume a practice-based course from 8 March, are encouraged to take a Rapid test through this programme before they leave. This is part of the government's guidance around safe travel for students moving to a new area and aims to reduce the risk of transmission. Returning UWE students can access Rapid tests at the Frenchay campus as part of the university's ongoing testing programme.
South Gloucestershire Council's Deputy Leader, Cllr Ben Stokes, said: "The Prime Minister has now announced a Road Map to allow us to come out of restrictions to our daily lives as and when it is safe to do so. We have all worked so hard together to get us to this point and this Rapid Testing programme is part of our ongoing efforts to keep us moving towards our shared goal.
"As we continue to roll out this scheme, it is important to remember that the virus is still circulating in the community. This testing is designed to find people who may be infected, but who are not showing any symptoms, who may otherwise unknowingly pass on the virus to others who may become seriously unwell.
"Whilst a positive Rapid Test result means that someone is very likely to have the infection, a negative test does not mean they don't have it. Everyone, whether they receive a positive or negative test result, could still be carrying the virus and be able to pass the infection on to others.
"As we eagerly follow the Road Map towards a summer free of Covid restrictions, it is still vital that we continue to follow the lockdown rules.
"The virus can only travel if we take it with us, which is why we still need to stay at home and remember Hands Face Space if we do need to go out for essential reasons."
South Gloucestershire Director of Public Health, Sara Blackmore, said: "With this extension of the programme, we are making Rapid Testing more widely available and reducing the amount of travelling people need to do to keep us all safe.
"We are keen to test our critical workers and people living and working in Kingswood, Bradley Stoke and Yate. The more we know about this illness the better able we are to counter it and to stem the spread. Following the lockdown rules, increased testing and peoples' ongoing vigilance is working."
If you would like to book a Rapid Covid-19 test at either Bradley Stoke or Kingswood Leisure centre, or Yate Parish Hall, please visit our website: www.southglos.gov.uk/rapidtesting.