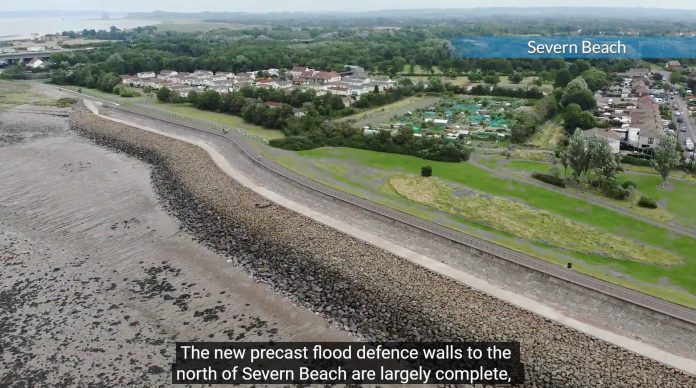 The Avonmouth and Severnside Enterprise Area (ASEA) Ecological Mitigation and Flood Defence Project has achieved significant successes this year, including the completion of the main phase of construction of a minimum of 80ha of new wetlands.
When complete, the project will provide 17km of flood defences to reduce flood risk to 2,500 homes and businesses and help to unlock 12,000 new jobs for the West of England.
Wetland construction: creating a wildlife haven
A major milestone has been met with the completion of the main phase of construction work at Hallen Marsh and Northwick wetlands. Scrapes (small ponds), flow control structures and ditch crossings, and new embankments have all been constructed. Work has also included creating natural refuges, or hibernacula, for local wildlife such as Great Crested Newts, other amphibians, reptiles and insects.
Cllr Nicola Beech, Bristol City Council Cabinet Member for Climate, Ecology, Waste and Energy, said: "These two new wetlands, one of which is in the Bristol area, are fantastic news and will play a major role in achieving our climate and environmental goals, as well as making our city a healthier place to live."
New flood defences
Over 2021, there has been significant progress on installing new flood defences throughout the project area. The project reached a key milestone over the summer with the installation of approximately one kilometre of precast concrete flood defence wall units in the Severn Beach area.
To the north of the project area at Aust Wharf Road, we have completed sections of the new flood defence wall, with built-in habitat shelves for plants, part of the commitment to enhance wildlife where possible during the project.
Emma Baker, Environment Agency Director Wessex, said: "Climate change is already happening, it's happening now. Climate change will mean wetter winters, drier summers, greater intensity of rain and therefore greater flood risk. Large parts of Avonmouth and Severnside are already at risk of flooding so we need this scheme to protect the area now and for future generations."
Cllr Toby Savage, South Gloucestershire Council Leader and Cabinet Member with responsibility for Climate Change, said: "We need to act now to ensure we are resilient against the effects of climate change. The newly constructed flood defences will help encourage businesses to invest in the area and are expected to unlock 12,000 new jobs by 2026. This will deliver a significant boost for our regional and national economy and thousands of homes and businesses in our area will be better protected against the risk of flooding."
What's next: 2022
Following the completion of much of the construction work, we will carry out landscaping of the new wetland areas at Northwick and Hallen Marsh in Spring 2022.
Work at Lamplighter's Marsh and the Avonmouth Docks will start in earnest in early 2022, with new flood defence walls, outfall structures and embankments constructed. This is the project's longest stretch of flood defence.
The completion of a new flood defence low-level wall incorporating a glass panel at New Passage. This will have two purposes, firstly it will play an important role in reducing the risk of flooding for homes in the area. Secondly, this form of flood defence will preserve the stunning views of the Severn Estuary for residents and people walking along Severn Way.
The flood defences at Aust Wharf Road will progress towards completion in Spring 2022, with the installation of new flood gates to complement the new retaining wall that has been built this year. These measures, when installed, will provide much-needed reassurance to residents in the event of flooding.
Richard Bonner, West of England Local Enterprise Partnership Chair, said: "To see so much visible progress being made, with flood defences being built and work taking place all along the coastline, is fantastic. The project is on schedule and going from strength to strength. I'm excited to see what 2022 will bring.
Discover more about our plans
Watch our new video https://youtu.be/YVcOxqTMkuU
For more information, visit our new website www.asea-flood-ecology.co.uk