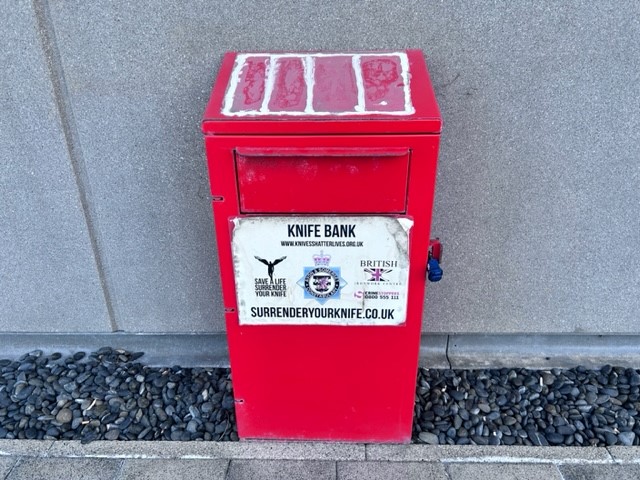 Anyone who illegally carries a knife is being urged to anonymously put it in a South Gloucestershire amnesty bin this Knife Crime Awareness Week (15 to 21 May).
Knife amnesty bins are located in Patchway, Staple Hill and Kingswood, and any bladed article can be wrapped and put inside without question or fear of prosecution.
The South Gloucestershire Violence Reduction Unit (VRU) is part of the council's wider Community Safety Team, and is working with Avon and Somerset Police and the force's targeted 'Operation Sceptre', to educate and inform young people about the dangers and consequences of carrying knives.
Anyone who carries a knife is more likely to be injured as a result. Seven out of 10 young people who end up in A&E with a knife injury have been stabbed with their own knife.
As well as encouraging anyone who carries a knife to place it in an amnesty bin, South Gloucestershire VRU has been assisting with community knife sweeps in parks and public places.
In 2017-18, knife crime and possession increased in Avon and Somerset by 53 per cent. The rise has slowed dramatically since the pandemic, with the latest figures showing a reduction of 0.3 per cent with possession offences also down from last quarter, from 10.2 per cent to 4.2 per cent.
While this is encouraging, it still means some people are carrying knives and South Gloucestershire Violence Reduction Unit is continuing with its work to eradicate knife crime altogether.
Philippa Isbell, Acting Service Director for Safer Communities at South Gloucestershire Council said: "We are committed to putting an end to knife crime and are working with young people in South Gloucestershire to educate, inform and engage with them about the dangers of carrying a knife.
"We are making encouraging progress and I want to thank everyone who has surrendered a knife or stopped carrying one to help protect themselves and others. I encourage parents and carers to help by sharing information and advice and asking any young people in their household to complete our knife crime survey.
"My message to anyone carrying a knife is to take advantage of this opportunity to dispose of it safely and anonymously in one of the amnesty bins provided. It could save someone's life; including your own."
Police and Crime Commissioner, Mark Shelford said: "This national knife crime awareness week is wonderful opportunity to highlight the creative initiatives which are being delivered across our area all year round. I would like to thank the South Gloucestershire Violence Reduction Unit team and partners for their support during this week and beyond. It is vital our young people understand the dangers and consequences of carrying knives. Let us also remember that 99% of young people are not carrying a knife."
Everyone can help. If you have teenagers in your household, or know young people in South Gloucestershire, please encourage them to fill in this short survey, compiled by the South Gloucestershire Youth Board KNIFE CRIME SURVEY (office.com)
The aim of the survey is to listen to the views of secondary school aged young people on knife crime. It is also to allow young people to put forward solutions or suggestions to help them feel safer.
For further information and what to do if you are worried about a child or need support visit https://beta.southglos.gov.uk/violence-reduction-unit in an emergency or to report a crime call 999.
South Gloucestershire knife amnesty bin locations:
Kingswood – Kingswood One Stop Shop, Civic Centre, High Street, Kingswood, BS15 9TR
Patchway – Patchway Custody Centre, 90 Gloucester Rd, Patchway, Little Stoke, BS34 6PY
Staple Hill – Broad Street, Staple Hill, BS16 5LX