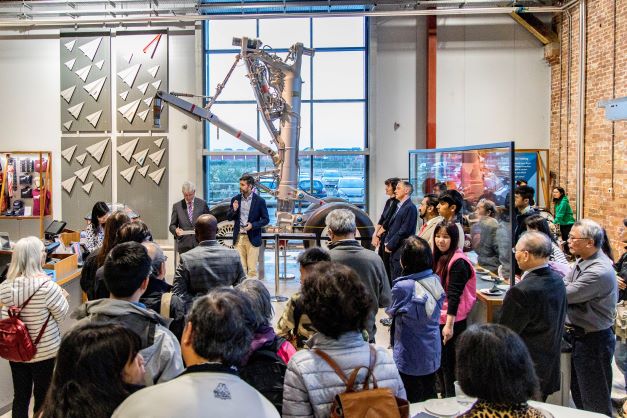 A welcome event was held last week for some of the approximately one thousand Hongkongers who have made South Gloucestershire their home over the course of the past year and to introduce them to local services and community groups.
More than 250 people attended and met with representatives from South Gloucestershire Council, Health, Police and Fire services, the South Gloucestershire Chinese Association, Bristol Chinese Christian Church and Chinese Community Wellbeing Society.
The event, held at Aerospace Bristol, included stalls from the various organisations that people could drop in to visit, as well as arts and crafts activities for children and a tour of the last Concorde ever to fly and the other museum exhibits, facilitated by a guide and interpreter.
In April 2021, the Government opened a route to apply for British National (Overseas) visas to live and work in the UK, following unrest in Hong Kong. This was backed by over £43 million in funding for the Hong Kong British Nationals (Overseas) Integration Programme, which was designed to help incomers access housing, work and educational support to ensure they are able to quickly integrate and contribute to their newfound communities.
Many Hongkongers are already enjoying a new life in South Gloucestershire, finding work, joining local schools and contributing to vibrant and culturally diverse communities. In the same way that the council has extended a welcome to those fleeing war and persecution in Syria and Ukraine, this event was designed to make people from Hong Kong feel welcome and to help them understand and access the services and support they need.
South Gloucestershire Council Leader, Cllr Toby Savage, said: "We are proud to welcome Hongkongers to South Gloucestershire, where the nature of our community is grounded in the people who form our community, in the way they treat each other, care for each other, encourage each other.
"We are living through very difficult times internationally and nationally, but it is right that we stand up for what is important to us and for the values we hold dear. Helping those in need is something we can be rightly proud of and people arriving from Hong Kong, just as those who have come here from Afghanistan, Syria and Ukraine, are already contributing positively to our community and repaying the welcome they have been made to feel."