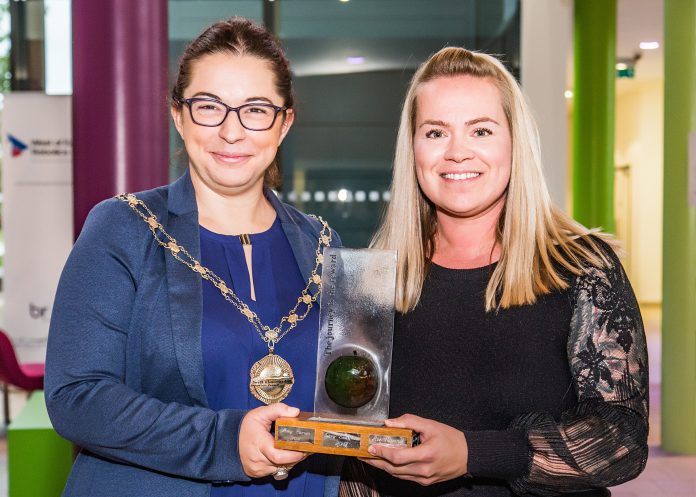 A celebratory event has taken place to recognise the achievements of adult learners in South Gloucestershire.
The annual event was organised by South Gloucestershire Council's Community Learning service to celebrate the achievements of residents aged 19 and over studying for English and Mathematics qualifications over the past 12 months.
Chair of South Gloucestershire Council Cllr Rachael Hunt was on hand to present the certificates to around 40 successful learners who attended the awards evening at Bristol and Bath Science Park on Monday 8 October. She said: "It is fantastic to see so many residents taking community learning courses and I would like to congratulate everyone on their achievements. Making a return to learning later in life can be very rewarding and it's inspiring to meet such a wide range of people from throughout South Gloucestershire who are so enthusiastic about their studies."
The overall Learner of the Year award for adults was presented to Emma Sutherland, age 37, who lives in Stoke Gifford. Emma passed her level 1 Functional Skills in both English and maths this year. Emma said: "Community-based learning is a very nurturing environment to learn in and the tutors helped me discover my own way of learning; never once did I feel stupid for not understanding something. I can even write letters and emails now!"
Emma goes on to say that it: "has increased her self-confidence, given her a sense of purpose and the future looks promising."
Emma is currently studying maths level 2 Functional Skills and English GCSE at South Gloucestershire and Stroud College. Her long-term goal is to go to University to study Physiotherapy.
Four years ago, Emma had a fall whilst sleepwalking. In that fall she broke her neck, fractured her skull, suffered several brain haemorrhages and a collapsed lung.
Before her accident, Emma had a job working for the NHS as a Physiotherapy assistant and was due to start university to become an Operating Department Practitioner. She said: "People don't usually survive these injuries, but I did."
Emma had to learn to do almost everything all over again: how to walk, talk, feed and dress herself. "It has changed my personality, stolen some of my senses and left me with a disability," she explained.
Following eighteen months of intensive rehabilitation Emma struggled with everyday tasks like counting money, writing emails, etc. She felt like the dream of going to university and returning to work seemed unattainable, but with help from her support worker, Emma looked into courses that could improve her basic skills (maths and English) and that's when she found South Gloucestershire Community Learning.
Last year 1,000 learners attended courses in South Gloucestershire covering a wide range of subjects, aiming to help people grow in confidence, improve their skills and progress to further learning or employment. For a full list of our community learning courses visit www.southglos.gov.uk/communitylearning #sgclearn