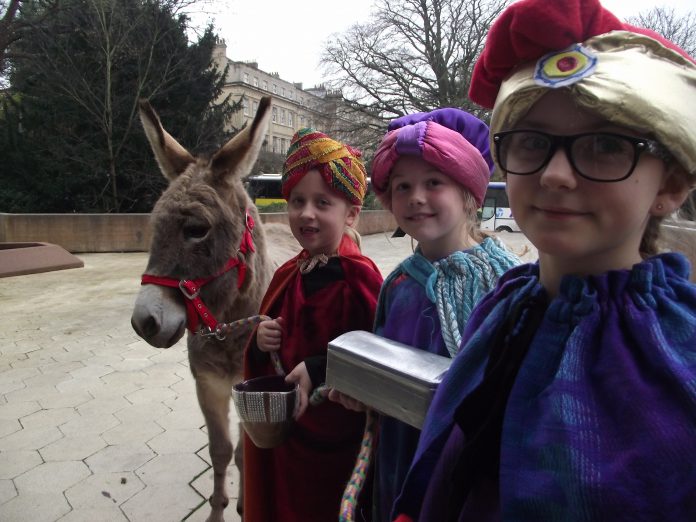 Nearly 1000 children and teachers from South Gloucestershire primary schools descended on Clifton Cathedral on Friday 2 December for their annual carol service.
950 South Gloucestershire schoolchildren, teachers, and a four-month-old baby playing the part of Jesus came together to recreate a special nativity scene during the service. The main characters of the nativity were played by pupils from St Peter's Primary School in Pilning, plus Mary and Joseph (played by teachers) lead a donkey around the cathedral to help bring the story to life.
Music was provided by a brass quintet and organ, with a varied programme of traditional carols and modern songs. Extra performances from Crossways Junior, Cherry Garden and Mangotsfield primary schools were supplemented by readings provided by pupils at Marshfield Primary School.
Richard Jones from South Gloucestershire Council's Music Hub said: "The annual carol service is a highlight of the year as it brings together so many children from South Gloucestershire's primary schools. It is a special event for all as we tell the Christmas story with a live portrayal of the nativity scene."
Chair of South Gloucestershire Council Cllr Erica Williams said: "It was a real treat to attend the primary schools carol service, see the nativity and enjoy the music and carols. Thanks to all of the pupils taking part and to the South Glos music hub for their efforts in making this wonderful event happen."