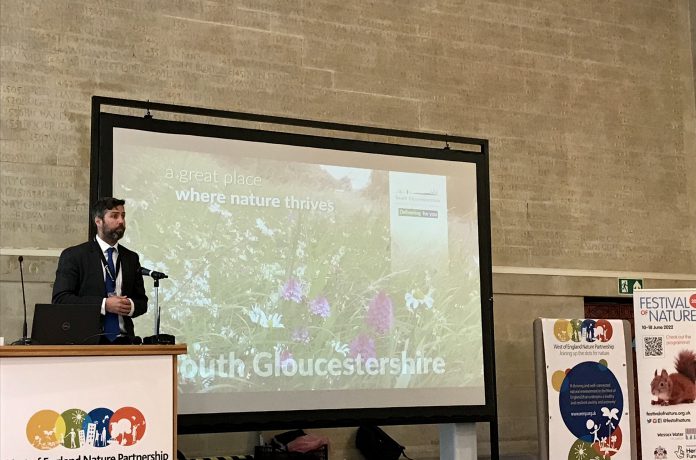 Town and parish councils could play a key role in launching a community-led nature revolution across England, says the Leader of South Gloucestershire Council speaking at the West of England Nature Partnership conference today (Thursday 9 June 2022).
But doing so will need a new approach from local authorities that empowers town and parish councils and cements a new kind of relationship across councils, says council leader Toby Savage.
The call comes after South Gloucestershire Council piloted a new approach to working with local communities in response to the nature emergency. This has led to town and parish councils across the district – including urban and rural areas – taking the lead on protecting and improving their local habitats, unlocking the ideas and energies of their communities. In return, the council provides expert advice and resources to help communities map local nature assets and plan and deliver habitat improvement works.
In the 12 months since launch of the pilot, the initiative has been rolled out across 13 town and parish councils, involving 136 local decision makers who control budgets, buildings and land, and are now diverting time, energy, and resource towards tackling the nature emergency.
They in turn reach almost 90,000 local residents, who will now in some way be involved with nature's recovery, through local communications channels, supporting the work or simply funding the changes through their town and parish precepts.
The parishes involved in the pilot cover more than 14,000 hectares of land, which equates to just over a quarter of South Gloucestershire, with action plans having the potential to influence some or all of this land in some way to help nature.
The work is part of the council's Big Switch towards being carbon neutral by 2030 and increasing biodiversity in South Gloucestershire.
With more than 10,000 town and parish councils in England, the initiative has the potential to prompt a community-led nature revolution as part of national response to ecological collapse.
To support wider roll-out, South Gloucestershire Council has provided resources free of charge on its website at www.southglos.gov.uk/thebigswitch to encourage other local authorities to do the same, as well as hosting webinars on topics ranging from swift protection to identifying opportunities for nature on land and buildings.
Hundreds of nature activists have stepped forward to help work in their local areas, with initiatives including hedgehog highways in Patchway to tree planting on parish land in Frampton Cotterell.
Toby Savage, Leader of South Gloucestershire Council and cabinet member with responsibility for the climate, said: "The climate and nature emergency presents us all with major challenges and, as a council, we know we can't do this on our own.
"We clearly have a critical role to play in responding through our own land, through our own operations and through our own work.
"As important though is the work that we can do to influence others in leading the response locally.
"This includes encouraging our communities and partners to take action and make the switches that we know are needed for the future.
"What the experience of Covid has shown is that by empowering town and parish councils to take the lead locally, it becomes possible to tap into the ideas and energies of communities themselves.
"By switching our approach alongside the work we do on our own land, it becomes possible to spark the community-led grass-roots nature revolution we all need."
Key to the resources provided by the council is a guide to conducting a local nature audit, which helps communities develop a local nature action plan. This forms the basis of community action planning, with town and parish councils able to contribute directly to improvements on land and buildings under their care.
Matthew Lipton, Biodiversity Assets & Commons Manager at South Gloucestershire Council said: "During the height of the pandemic, many people fell in love with their local natural places.
"Anyone over the age of 30 will remember a childhood where it was common to scrub bugs from car windscreens, or chase moths and daddy longlegs from the house.
"They can see how dramatically things have changed in a matter of a decade or so, and there is a huge public desire to play their part in helping nature recover.
"The important thing about the plans is that they are locally led and locally owned, which means that local people are driving the response in their local area.
"There is an amazing amount of expertise and energy within communities already.
"Our role becomes helping people think like a hedgehog so they can start to see the nature opportunities for the land and buildings in their direct care.
"Like the response to the pandemic itself, people also want to play their part in responding to the climate and nature emergency.
"We're just tapping into that community energy and enthusiasm to scale up what we can do locally."
Case studies:
Yate Town Council
Yate Town Council made a climate and nature declaration in 2020, recognising the climate and ecological emergency we are facing. Supported by South Gloucestershire Council, the town council drew up a Local Nature Action Plan (LNAP) to help the community work together to tackle the decline in biodiversity. Yate is an urban area, with green spaces within the urban area covering 850 hectares of which 150 are rural. Finalised at their full council meeting on 10 May 2022, the LNAP forms a six-year plan for biodiversity, using a zonal and town-wide approach. The action plan is available online at: https://yatetowncouncil.gov.uk/about/climate-and-planet/local-nature-action-plan
Frampton Cotterell Parish Council
In Frampton Cotterell village, Floral Friends of Frampton have worked with the parish council to create connected habitats, a network of flowers across the village to help pollinators thrive. The Frampton Cotterell Scout group and nature group have also planted over 300 trees on parish council land, creating a connecting woodland habitat for a range of tree-loving species. These nature projects would not have been possible without the dedication and involvement of local groups and volunteers working alongside the parish council.
Daisy Finniear, Climate and Nature Officer to Frampton Cotterell Parish Council, said: "Frampton Cotterell Parish Council's Climate and Nature Committee is so excited to announce the completion of our Local Climate and Nature Action Plan. The plan was created with the excellent support from South Glos Council's Local Nature Action Plan guidance as well as help from our brilliant volunteers. We have included a 3-year project list that we have gotten stuck into over this year, including planting trees, installing a bug hotel carved by Andy O'Neil, starting a new biodiversity plan on our open space, co-organising a BioBlitz with the local nature group and more. Parish and Town Councils can play a vital role in protecting and enhancing nature locally and beyond, especially when joining forces with local groups."