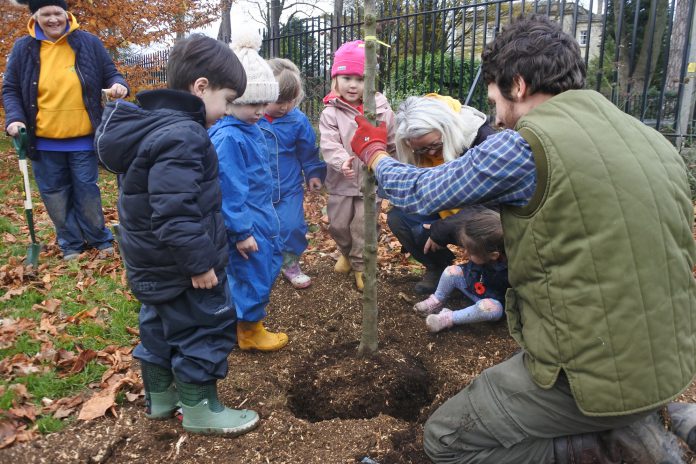 It's National Tree Week (26 November to 5 December) and to mark the UK's largest annual tree celebration, South Gloucestershire Council's free tree voucher giveaway is back.
Tree Week is aligned with the start of the winter tree planting season (November to March) and aims to raise awareness of how we can all help to increase tree cover in the UK. This year, the council is working with three local tree nurseries and the Forest of Avon to promote tree planting at home, with 250 vouchers worth £20 available for residents to claim and use towards the cost of their own tree. The vouchers are available on a first come, first served basis, with one voucher available per household.
Applicants can choose to use the voucher to help plant a tree in their own garden, or alternatively opt for the voucher value to be passed on to the Forest of Avon Trust to plant a tree on their behalf.
For those who choose to plant a tree in their own garden, the voucher can be used at one of these three tree nurseries:
Landcare Tree Nursery, Old Sodbury
Lodge Farm Trees, Rockhampton (fruit trees only)
Mount Pleasant Trees, Rockhampton.
Planting more trees is an important part of the council's response to the climate and nature emergency, and they want to double the tree canopy by 2030 to improve biodiversity and keep the local environment healthy.
There is sufficient space in South Gloucestershire to plant the volume of trees to meet these targets, however, most of the land suitable for tree planting is privately owned. So, the council say it's important for residents, landowners, planners and other organisations to identify and make land available for their own tree planting to help contribute to the overall goal.
Councillor Steve Reade, cabinet member responsible for regeneration, environment and strategic infrastructure at South Gloucestershire Council, said: "We are committed to becoming carbon neutral by 2030 and Tree Week provides us with a great opportunity to celebrate trees and their importance to our local, national and global environment.
"Trees are essential to life on our planet; they remove carbon dioxide from the air, produce oxygen, store carbon, provide food and shelter for wildlife, give us shade and help to prevent flooding and soil erosion.
"A recent report on the council's climate and nature emergency progress shows that South Gloucestershire is on track for the area to become carbon neutral by 2030 but we all need to play our part in helping restore nature. The simple act of planting a tree or donating to the Forest of Avon is a positive contribution which will help the environment and the places we love."
To claim a free tree voucher, visit www.southglos.gov.uk/treeweek and follow the instructions.
In addition to encouraging tree planting, the council is also celebrating hedgerows this year and is working with CPRE Avon and Bristol (The Countryside Charity) on their Hedgerow Heroes project to improve the way 118km of council-owned hedgerows are managed to prevent over-trimming.
As well as marking boundaries and providing picturesque landscaping features, hedges are wildlife superhighways, giving animals birds and insects a safe connection to other habitats. Managing hedgerows in the right way helps hedges stay healthy and means they can store more carbon and support more wildlife.
A number of CPRE Hedgerow Hero volunteers have already been at work hedgelaying in the area, which you can see on the Emersons Green Heritage Walk behind the earth embankment. Find out more by visiting www.cpreavonandbristol.org.uk/hedgerowheroes/
For more information about tree management in South Gloucestershire visit www.southglos.gov.uk/trees