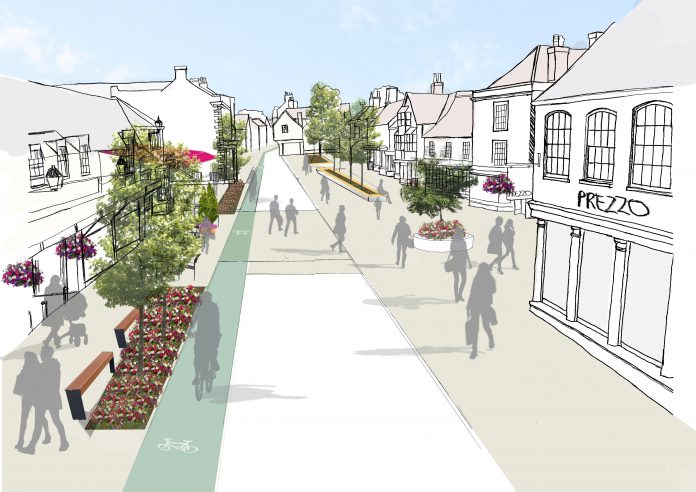 Proposals to assure the long-term health and viability of Thornbury's High Street will be discussed at South Gloucestershire's Cabinet Meeting, to be held on Monday 7 June. The measures proposed have been put forward in response to community feedback received over the past year and seek to lock in the environmental benefits for the town centre, which have been realised with fewer journeys being made by car.
The plans will equip the High Street to meet current and future challenges and the needs of residents, delivering a local community hub, providing space for all to enjoy day and night.
Importantly, the High Street will not be fully pedestrianised, but will have a one-way system to allow vehicles access for deliveries, as well as customer pick-ups and drop-offs, which were key asks from the community in feeding back to the interim measures put in place during the pandemic.
During periods of restrictions due to Covid-19 the Government instructed and made funding available to adapt town centres and high streets to enable traders to do business under the various restrictions in place to keep communities safe.
Experimental measures were put in place on Thornbury High Street to reallocate space normally used by vehicles for shops to display more produce and serve customers safely. Cafes, for example, were also able to expand their outdoor seating, and we were able to promote active travel, including cycling and walking.
These measures undoubtedly helped many businesses trade safely under the very difficult circumstances over the past 15 months and allowed residents to feel safe about returning to and supporting local employers.
Cabinet will consider the development of a longer-term, wider vision for Thornbury that has at its core a High Street that is open for access to support traders and people who live there, and where changes are made, they will reflect the centre of the town's conservation area status.
In developing these plans, we will ensure that we continue to listen and learn from the experience to date, with proposals for the long-term scheme being subject to broad engagement working closely with the community, the Thornbury Town Centre Partnership and others. This engagement may include targeted focus groups to address specific issues such as resident parking, for example.
In the meantime, the following would be implemented in June:
• Through traffic will remain prohibited, but new road lining will create a clear roadway for motorised vehicles accessing the High Street for loading and unloading and to access residential properties on the High Street, in the same one-way direction in use currently, using textured lining paint to help the visually impaired.
• Extended the temporary ramps on the kerbs through the High Street to improve accessibility on and off the pavement.
• Create clear and well signed parallel loading and unloading bays and drop-off and pick-up points on the High Street.
• Install additional street furniture – benches, adapted cycle parking etc.
• Reduce the planters and secure in location to avoid anti-social behaviour issues and work with Thornbury In Bloom to ensure displays are coherent with wider Thornbury in Bloom schemes.
• Review entrance and exit gateways to slow traffic on entry, progression through High Street and exit.
• Review signage to ensure appropriate access from Bristol Road and Midland Way roundabout.
Over the past year, the council has allocated £220,000 from a range of sources to work that has helped businesses on Thornbury High Street to safely provide for residents and shoppers. We have also secured funding to develop our longer-term business case and we will to bid for more money to help us deliver our vision for this important local centre; working with the community to ensure it is a high-quality public asset, which meets local peoples' needs in a way that reflects and conserves its history.
Cabinet Member for Regeneration, Environment and Strategic Infrastructure, Councillor Steve Reade, said: "Thornbury High Street, like town centres across the country, have seen tough trading conditions made more difficult by the pandemic, but have responded brilliantly in adapting the way they do business and serve their communities in a safe way, so that with the right support they are poised to bounce back and thrive as we look to the future.
"We have and continue to work closely with local residents, businesses and others to support the safe reopening of the High Street and supported hospitality providing more outdoor space for customers. I am delighted that six premises have been granted street trading licences and a further two are making use of the additional space to present items for sale.
"This past year has been dreadful for so many reasons, but there are some positives we have an opportunity to build on as we aim to put the tough times behind us and look forward with fresh eyes and high hopes. Recent pedestrian counts tell us that increasing numbers are returning to local shops and businesses as restrictions are eased, with around 500 people visiting the High Street and around 100 cyclists.
"The future High Street vision supports the regeneration of the town centre and puts the High Street at the heart of a thriving community supporting the town's recovery from the pandemic. We all want to see a space that meets the needs of all residents and visitors both in safety, access and experience.
"Thank you to the many residents, businesses and groups that gave us their feedback. As a result, vehicles will still be able to access to the High Street in one direction, but only in support of the businesses there. This future vision will embrace and encourage active travel, through safe cycling and walking routes to the High Street, enabling all to enjoy the reduction in traffic and noise when using the High Street.
"Longer term, we want to make sure as a priority that the centre of Thornbury is accessible for those using public transport and we will review bus service provision to make sure those needs are met.
"We also want to play our part in delivering a digitally enabled High Street, with fast and strong connectivity for businesses and visitors alike, maximising the opportunity for online retail through click and collect, making use of shared space for skills and training, and recognising the demand for more remote working with residents staying local and working from home."
While the temporary measures were in place, a number of changes have been made to the initial scheme, based on community feedback, to improve accessibility and address concerns raised, particularly by disabled residents and visitors. These include:
• Addition of three disabled bays at the bottom of the closure and three at the top.
• Addition of ramps to support access on and off the kerbs.
• New cycle parking and street furniture including additional seating.
• Removal of the temporary traffic barriers to fitted black railing that can be removed for events.
• Bus shelter added to the new stop on Rock Street.
• Addition of a twice monthly street market.
Papers for the Cabinet meeting on 7 June can be found on our website here: Agenda for Cabinet on Monday, 7th June, 2021, 2.00 pm – South Gloucestershire Council (southglos.gov.uk). The papers (at Item 16) includes data on the impacts of the temporary measures put in place last year, details of the consultations undertaken so far, responses to issues raised and mitigations for these.