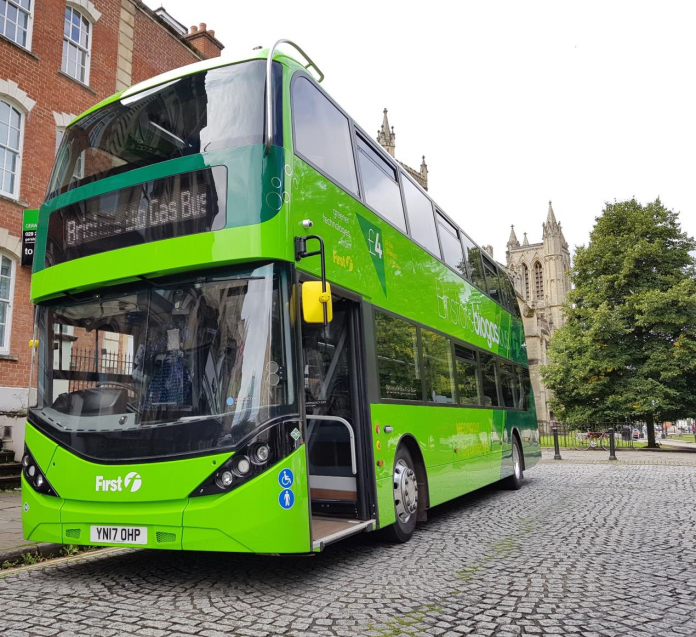 The Cabinet Member responsible for transport has welcomed the £4.79m fund from the Office for Low Emission Vehicles, which is designed to help unlock a £28m investment by First West of England to potentially transform a significant part of their fleet into bio-methane powered buses. Alongside this historic investment, the additional buses would mean that over half of First West of England's fleet would be low emission or low carbon.
The new buses, which could start running by 2019, will help South Gloucestershire and neighbouring authority areas make progress in reducing harmful air pollution to meet legal limits and will operate in locations where the most benefit will be gained in reducing pollution, including the city centre area, Staple Hill and other routes.
The funding will help introduce 110 new gas powered buses, 30 of which will be introduced into MetroBus services.
Cllr Colin Hunt, Cabinet Member responsible for transport, said: "This is a great news for everyone living and working in and around South Gloucestershire and is yet another example of our strong local authority partnerships levering funding for much-needed transport improvements.
"We are looking forward to working with First and our neighbouring authorities to unlock the investment needed to operate and manage a new fleet of buses using innovative technology."
West of England Mayor Tim Bowles said: "I'm delighted that £5 million of government funding has been secured to transform the bus fleet in the West of England.  Joint working has unlocked this investment to help cut harmful nitrogen oxide emissions, safeguarding the health of local communities.
"My vision for the West of England states that we will work together to take responsibility for reducing emissions and is currently available online for feedback."
South Gloucestershire Council formally led on the bid and the grant was submitted to government by the West of England councils (Bristol, South Gloucestershire, Bath and North East Somerset, and North Somerset) and First.
The announcement follows the launch of the first double decker bio-gas bus in Bristol earlier this month.