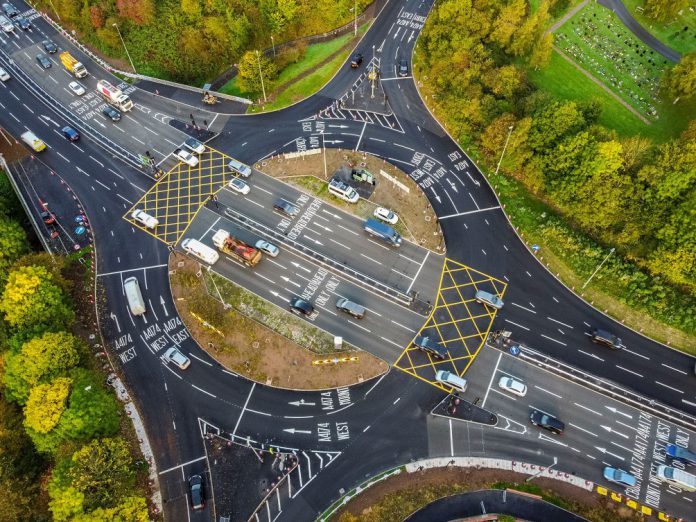 South Gloucestershire's first through-about (a round-about with lanes of traffic through the middle) has today opened to traffic on the A4174 Avon Ring Road (Monday, 25 October).
The £6.9 million project to convert Wraxall Road roundabout into a signal controlled, through-about has been delivered by South Gloucestershire Council and is designed to reduce congestion, increase traffic flow, and improve air quality.
It forms part of a £174 million investment into our road network over a four-year period and will help to reduce delays at busy periods by managing the volumes of traffic in a controlled manner. It will also help to improve air quality in the vicinity of the roundabout and future proof the road network with additional housing and development coming forward in the area.
The project supports our goals to tackle the climate emergency by relieving congestion along this busy strategic route and reducing carbon emissions. It is also set to improve the resilience of the local road network and make sustainable modes of travel such as public transport and walking and cycling more attractive options within local communities.
Around £20,000 of investment into local cycleway and footpaths has been made as part of the project, with work to clear vegetation, improve drainage and resurfacing taking place to encourage active travel.
Improvements include:
Widening the ring road approaches to create three lanes in each direction through the middle of the junction
Widening and altering the layout of both approach roads – Tower Lane and Wraxall Road
Installing 26 traffic signals on the approaches and at the junction
Re-surfacing the junction with new road markings added
Removing the original central reservation and replacing it with approximately 2km of safety barriers
Installing new acoustic fencing
The planting of 141 trees in Cock Road Ridge and Grimsbury Farm to help enhance local, green spaces.
Work started on the new through-about in summer 2020 and has been completed within budget.
South Gloucestershire Council's Cabinet Member for Regeneration, Environment and Strategic Infrastructure, Cllr Steve Reade said: "I'm delighted to see the successful completion of this major project to improve congestion on the A4174. This is South Gloucestershire's first through-about and we are confident that it will not only ease congestion on one of our busiest roads, but also help to prepare our road network for further housing and commercial development in the area.
"This investment underlines our long-term commitment keep people moving and traffic flowing on our road network, and by doing so we are making sustainable modes of travel such as public transport more attractive options within local communities. Improvements have also been made to local walking and cycling infrastructure of part of this project, so active and sustainable methods of travel are viable alternatives to jumping in your car for a short journey. We thank people for their patience while the work was carried out."
The Wraxall Road through-about has been funded by the West of England Combined Authority.
Further information including a map of the through-about, frequently asked questions and a video showing how the roundabout operates can be found on our website www.southglos.gov.uk/majorroadworks
An aerial video of the new junction in operation is available at https://www.youtube.com/watch?v=xiYo8kkz4iM