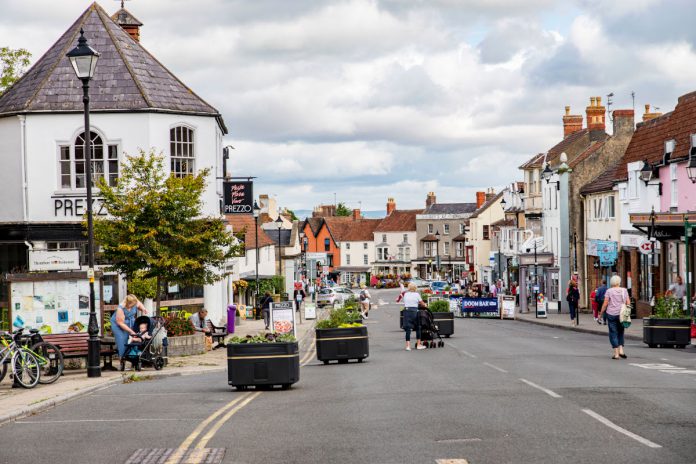 South Gloucestershire Council has today (Friday 28 January) secured a further £4.577 million of funding to progress the vision for the future of the High Street.
This funding will enable the Council to continue to build upon the interim High Street scheme introduced in July 2020, which includes the prohibition of through traffic, creation of dedicated blue-badge, loading and drop off bays, widening footways, increasing cycle parking and a new vision for a people orientated High Street with new seating, planting and wayfinding.
Work will now be carried out to complete the detailed design of the scheme and to prepare the full business case. A further period of communication and engagement on the plans will then be conducted with local people and stakeholder groups, including the Accessibility and Equality Group and Town Centre Partnership, which includes The Chamber of Commerce, Town Council, Police, local traders and St Mary Centre.
We are committed to working in collaboration with the community and will continue our conversations with local people about the plans. Following extensive engagement, work will then begin to progress the plans and deliver enhancements to St Mary Street and Rock Street car parks, as well as Rock Street, Midland Way and the High Street.
We are also committed to ensuring good accessibility for all and as part of this we have set up a Thornbury High Street Accessibility and Equality Group, made up of residents of Thornbury and surrounding areas, representatives of the South Gloucestershire Disability Equality Network, South Gloucestershire Over 50s Forum and the Accessibility Thornbury group, and we have been working closely with this representative group since July 2021 when the first 'overarching vision' for the high street was put forward.
The group has met regularly to discuss matters of accessibility and raise issues and ideas. As a result of this engagement, a significant number of ideas have been put forward that are helping to guide the changes moving forward. These include, enabling buses to access the high street, securing the provision of blue badge parking spaces and a range of other developments, such as ensuring good seating areas, better pavements and enhanced signage.
Cabinet Member for Communities and Local Place Cllr Rachael Hunt said: "I am delighted that this additional funding has been approved to help us continue to support Thornbury High Street.
"Thornbury is one of the most loved towns in our area and we are investing considerable resources to deliver on our vision for a welcoming and attractive destination for all and to support the economic prosperity of the town.
"Our aspiration is to map out a future for the centre of the town that is shared by the community and will continue to be enjoyed for many generations to come. We want local people to help shape these plans and we are working hard to ensure they are fully engaged throughout the process."
The High Street scheme's associated Traffic Regulation Orders (TROs) were made permanent in November 2021 which allow the Council to relax restrictions imposed during the Emergency Traffic Regulation Order (ETRO) period, maintaining access for all but ensuring unnecessary through traffic isn't re-introduced.
A speed reduction to 20mph has been agreed and further space will be allocated in the High Street for dedicated blue badge parking, limited waiting spaces and facilities for loading and unloading. This underlines that the plans do not impose a pedestrianisation of the High Street, but rather seek to establish a shared use to promote new ways for people to enjoy the area, whilst protecting access for those who need to park close by due to mobility issues or travel by public transport.
This additional £4.577 million of funding will be provided from the Economic Development Fund (EDF).
For more information visit https://beta.southglos.gov.uk/thornbury-high-street