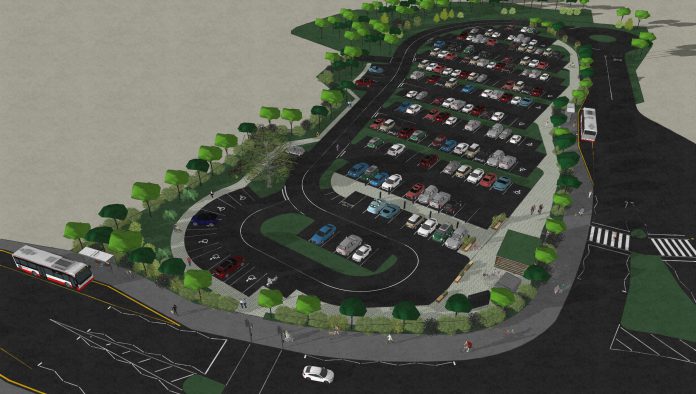 A new park and ride in Yate, South Gloucestershire is set to open in spring 2021 after the final stage of planning permission was given the green light by the Secretary of State.
The £3.5 million facility will support more sustainable travel in Yate and the surrounding area, and will be located on Badminton Road, adjacent to the South Gloucestershire Council offices.
The new park and ride will help reduce traffic levels along the congested A432 Badminton Road corridor, by encouraging people who travel locally and into Bristol to use alternative travel options such as public transport, cycling or car sharing.
It will include 192 parking spaces, 38 electric vehicle (EV) charge points, bus stops both inside and outside the site, a traffic light controlled pedestrian crossing (providing a safe link between the external stop and the car park), zebra crossing and secure cycle storage for 46 bikes. The site would also host a car club, bicycle maintenance facilities and click and collect parcel lockers.
Initial park and ride services will be provided using the existing background bus network, prior to the arrival of metrobus services in the area. Bus services will take passengers into Bristol and Yate.
The facility will also act as an overflow car park for Yate Station, which is just an 8-minute walk from the site and will be managed in such a way to ensure that users are encouraged to switch to sustainable forms of transport for onward journeys. The intention is that the facility is used to connect to another form of transport and not be used as a permanent car park.
Council Leader Cllr Toby Savage said: "I am delighted that these plans have now been fully approved and we can get to work constructing the new Yate Park and Ride.
"We want to encourage more people onto public transport as part of our Climate Emergency ambitions and by supporting a change in people's travel habits we will hopefully see improvements in public health, air quality and a reduction in harmful emissions that will benefit us all.
"It has taken a lot of hard work to bring these plans to fruition and I look forward to seeing the park and ride open in spring 2021."
Thornbury & Yate MP Luke Hall said: "In my capacity as our local MP, I am really pleased that the Yate Park and Ride has received this final approval. This is such an important project for our community, to help Get South Gloucestershire Moving.
"My Positive Plan for Transport promised to deliver this brand new Park and Ride, and it is excellent news that we can now get on and begin building.
"The Park and Ride will help families and commuters throughout South Gloucestershire, and as we Build Back Better from the coronavirus pandemic, I am grateful to South Gloucestershire Council and the West of England Mayor for their continued support and backing for this vital piece of infrastructure."
West of England Mayor Tim Bowles said: "I'm thrilled that the Yate Park and Ride has finally got the go-ahead. We can now get shovels in the ground and deliver on this promise to get our region moving, cut congestion, improve air quality and give families a real alternative to always having to use their car. This is precisely the sort of regionally significant project that the Combined Authority was set up to make happen, and means it will be easier for people to get to the decent, well paid jobs that are going to be at the core of our economic recovery."
The £3.5 million project is being funded by the West of England Combine Authority (WECA). Work is expected to begin in December 2020.