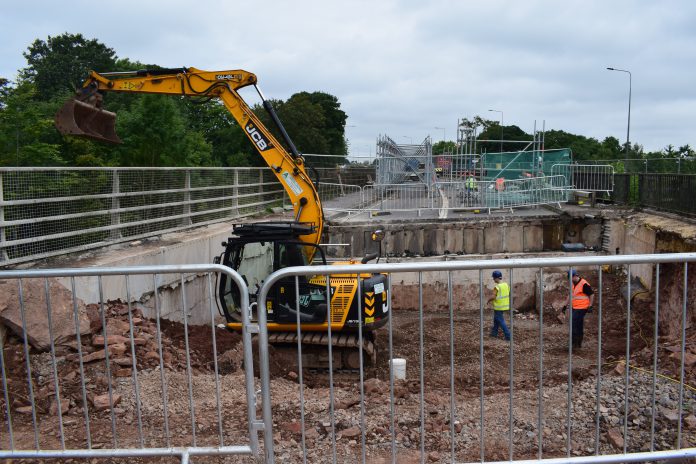 We are reminding residents and commuters in the region that the Bromley Heath Viaduct maintenance work is now well underway and that we anticipate an increase in traffic in early September.
The contraflow on the A4174 ring road has been in use since 24 July and traffic has been flowing through the area relatively smoothly. However, we anticipate an increase in traffic when the schools go back in early September resulting in a rise in delays on the ring road and surrounding area.
People are encouraged to plan ahead and to look at changing their travel plans during the work to help ease congestion. Our advice is to avoid the area/use an alternative route if possible, change the time you travel to avoid peak times and to allow double the amount of time for your normal journey. Cycling, walking, car sharing or using public transport where possible will help everyone to go about their daily commute more freely.
To help, there will be extra buses on the number 10 route* during peak travel times and a park and ride facility is open at Lyde Green, in Emersons Green. This new park and ride facility has been opened earlier than scheduled to allow drivers to park and make their onward journey using public transport, car sharing, walking or cycling.
The park and ride is located off the A4174, near the Rosary Roundabout on Willowherb Road, and is signposted from the ring road. There are 102 spaces, 16 disabled bays, 24 cycle spaces and one motorcycle bay open for use. A further 144 overflow spaces are also available if required.
A number of bus services already serve the park and ride including the X48, 10*, 462 and 86. Please visit www.travelwest.info for details.
Cllr Colin Hunt, Cabinet Member responsible for transport, said: "We know this is one of the busiest sections of the A4174 and we are expecting significant delays, especially during peak times when the amount of traffic increases in September.
"I would encourage people to use alternative routes or take public transport wherever possible. For people travelling by road, the advice is to allow twice as long for your journey.
"We understand that this will cause disruption and disturbance to residents, communities and businesses alike and would like to apologise for the disruption while this essential maintenance work is taking place."
Commuters are also advised that Network Rail are carrying out upgrade work at Bristol Parkway Station as part of the electrification project. Many trains will be affected, and there will be a closure of the station in the first two weeks of September resulting in rail replacement services and the increased use of other stations such as Yate and Patchway.
To help people plan their journeys during the Bromley Heath Viaduct work we will be holding a number of information events at local schools and at the Bromley Heath site compound.
Our road safety team and partner organisation Living Streets will also be delivering a series of school assemblies that aim to increase the number of pupils who walk or cycle to school.
Further information on travelling through the roadworks is available at www.southglos.gov.uk/transport-and-streets/streets/roads-road-works/major-roadworks/bhviaduct/impact-on-the-network/
Work progress update:
We are now into the accelerated programme which will result in the contraflow duration being reduced to 33 weeks.
So far, we have excavated several thousand tonnes of soil and in-fill from above and underneath the viaduct.
On top of the structure, we have nearly finished digging out a huge inspection gallery (image 1) which will enable engineers to safely inspect the end of the viaduct and replace worn-out bearings. This will reduce future inspection and maintenance costs and will reduce the need for future traffic lane closures.
Under the viaduct, we are constructing a large scaffolding structure which will enable us to carry out strengthening and concrete repairs to the piers, provide access to carry out the foot/cycleway widening, and enable access to carry out the parapet replacement. Thousands of tonnes of concrete have been poured to create jacking plinths at each abutment (image 2). The west end of the viaduct has been raised by a few millimetres to remove the load from the bearings and allow them to be replaced. The east end of the viaduct will also be raised soon. We will then complete the structural repairs and begin work to create the wider shared use cycle and pedestrian path.
To view a short video of head of StreetCare and Transport Mark King explaining the work visit https://vimeo.com/sgloscouncil/bhviaduct
Full background on the viaduct scheme is available online www.southglos.gov.uk/bhviaduct