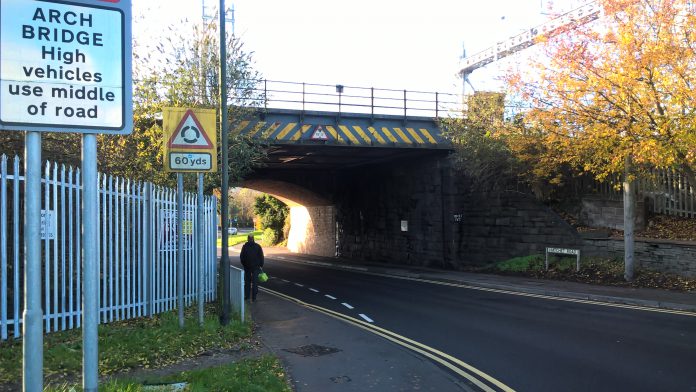 We are introducing changes to the road layout under Bristol Parkway railway bridge on Brierly Furlong in Stoke Gifford to help protect cyclists and pedestrians against coronavirus as they begin to return to school and work and as shops start to reopen.
Historically this is a pinch point for people walking or cycling as the road narrows under the bridge and we want to make some improvements now to allow people to socially distance as more pupils return to school and non-essential shops reopen from 15 June.
Three education campuses – Abbeywood Community School, South Gloucestershire & Stroud College and Bristol Technology & Engineering Academy – are located near to the railway bridge meaning that a high proportion of pedestrians and cyclists are children and young people and their numbers will continue to grow.
From Sunday 14 June, we will be trialling a new layout for the section of road under the bridge. Barriers will be in place to create a single lane for traffic, controlled by temporary traffic signals.
The extra space created either side of the lane will be designated for people walking or cycling under the bridge and will enable them to keep a safe distance from each other. Signs and road markings will be in place to notify road users of the new road layout and direct cyclists and pedestrians to use it safely and appropriately.
These road changes are a temporary measure in response to the current emergency situation. We will be monitoring, recording and reviewing the changes as more people return to work, businesses re-open and more pupils return to school. We also aim to develop a longer-term solution that provides safe access and/or additional facilities to divert pedestrians and cyclists away from the highway.
We anticipate that these changes may cause delays for traffic in the area. We apologise for any disruption; these measures are essential to help people stay safe and control the spread of the virus.
Cllr Steve Reade, Cabinet Member for Planning, Transport and Strategic Environment, said: "These changes are part of our emergency response to the COVID-19 pandemic in order to help stop the spread of the virus and save lives in our local communities as lockdown eases.
"The Council has a statutory duty to make it as easy as possible to follow rules for social distancing in public places and we are currently working on several projects to make public space safer for everyone. These projects will also help to maintain some of the positive changes seen during this time, such as an increase in cycling and fewer cars on our roads.
"We will be announcing additional projects across South Gloucestershire over the coming weeks, and due to the speed of their introduction they will be subject to regular constructive review."
This project is one of many we are delivering to help support businesses, allow people to safely get to work and to walk and cycle safely as well as to help schools reopen. We have produced a booklet explaining the measures we are putting in place in High Streets, parks and open spaces, at bus stops and outside schools and to improve people's journeys as they return work. The booklet can be viewed here https://beta.southglos.gov.uk/wp-content/uploads/2130-Making-Public-Places-Safer-6.pdf
We are currently working on a number of projects across South Gloucestershire and further details of these will be announced over the coming weeks once they are confirmed. The funding for this work comes from central Government through the West of England Combined Authority (WECA).
We have also adapted our Local Transport Priority List (Assess and Decide) process for considering requests from residents. We welcome any useful suggestions. If there are any interim measures we can implement to easily help people maintain social distancing we will put these in place as soon as possible. For more information and to make a suggestion visit www.southglos.gov.uk/local-transport-priority-list
You can provide feedback about this scheme at www.sustrans.org.uk/space-to-move/