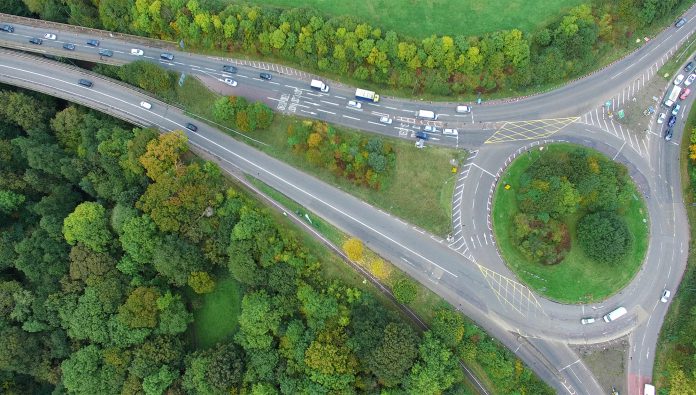 Essential maintenance work on the Bromley Heath Viaduct will be reduced to 33 weeks after funding from the Local Enterprise Partnership Economic Development Fund (EDF) was agreed by the West of England Joint Committee.
The Joint Committee, made up of the West of England Combined Authority members and North Somerset Council, met for the first time today (Wednesday 28 June). Councillors considered a report about the viaduct which spans a section of the A4174 ring road at Bromley Heath. The 1960s structure is due to undergo a major repair and improvement scheme next month, which will see safety, pedestrian and cycling provision enhanced.
The request for EDF funding of £2.8m will allow us to reduce the total duration of the work from 52 weeks to 33 weeks. This will be achieved by carrying out the work over dual weekday shifts, with some weekend work as and when required. This will be publicised in advance. The Department for Transport is also providing funding towards the scheme, which has already been secured.
Cllr Colin Hunt, Cabinet Member responsible for transport, said: "Reducing the length of the work will help to alleviate congestion and the impact of diversions on local communities, commuters and people travelling through the area. We know the scheme will cause significant disruption for people but we are trying everything we can to mitigate this.
"We have been carrying out a series of engagement meetings for the public to find out more about the plans and the impact it will have on their day-to-day movements. These have been well-attended and I would like to thank everyone for taking the time to come along and talk to us. We are listening to people and where possible, we have been able to adjust our plans based on residents' feedback."
Mayor of the West of England Tim Bowles added: "This is a good example of where our partnership working is funding the sort of projects that have both community and strategic benefits for the wider region."
Local Enterprise Partnership Interim Chair Professor Steve West said: "I'm delighted that in one of our first decisions we've been able to approve funding that will dramatically speed up an essential maintenance scheme that will benefit drivers, cyclists and pedestrians."
Work on the viaduct was approved by South Gloucestershire councillors earlier this year.
Having consulted with a wide range of stakeholders, including neighbouring authorities and Highways England who look after the motorway network, the traffic management arrangements will be put in place over the weekend of Saturday 22 to Sunday 23 July. The actual maintenance work will start on Monday 24 July. Further updates will be made nearer the start of the work.
Full background on the viaduct scheme is available on our website www.southglos.gov.uk/bhviaduct which includes details of further engagement meetings.