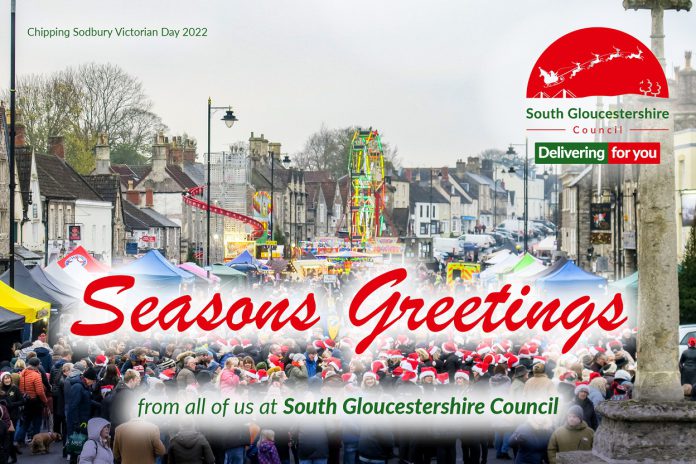 Festive message from Leader of South Gloucestershire Council Councillor Toby Savage
I would like to take this opportunity to wish everyone in South Gloucestershire all the best for the festive season and a very Merry Christmas to those who celebrate.
As well as being an enjoyable time, I know that it is also a difficult period for many people and with the very cold temperatures we've had recently, and the cost of Christmas, it is particularly tough for some.
The council is helping residents to stay warm over the festive period and winter months with several offers of support.
We are giving out warm packs to those who need a little extra help to stay well and warm as the cost of energy and heating continues to rise. These include clothing such as hats, socks and gloves as well as useful items for the home including an LED bulb and tea bags.
The packs are available from the council's One Stop Shops and South Gloucestershire libraries. Vulnerable residents will be prioritised although anyone can request a pack and they will be allocated on a case-by-case basis. Age UK will also be distributing tailored warm packs to pensioners, and some will include an electric blanket.
We are also giving radiator panels to residents most in need to help them keep warmth in their homes and manage energy bills. The panels are placed behind radiators and help heat circulation, reducing energy loss through walls and can help to reduce costs. Certain eligibility criteria will apply for the radiator packs and the council's Handyvan service can be made available to fit them for free if needed.
The warm packs and radiator panels have been paid for through central government's Household Support Fund.
We are also supporting a network of community welcome spaces across the area that are free to use, providing a warm place to go with some also offering hot drinks and activities. For more information on available support and to find a community welcome space visit www.southglos.gov.uk/CostofLiving
Residents who would like to talk to us and check what financial support may be available can call our freephone helpline 0800 953 7778 (open 8.45am to 5pm Monday to Thursday and 8.45am to 4.30pm Friday). Alternatively book an appointment by emailing OSSAppointments@southglos.gov.uk
Details of all the council's Christmas and New Year opening times and service changes are available here www.southglos.gov.uk/christmas
Please remember to check the revised waste and recycling collection dates over Christmas. There are some temporary changes from Monday 26 December, but collection days will be back to normal from Monday 2 January.
I hope that everyone gets to enjoy this festive period and I send my very best wishes for a happy and healthy 2023.