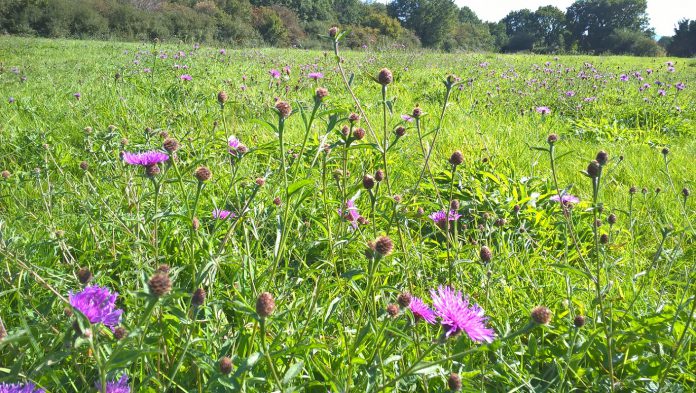 Over £18 million of new and increased capital investments including biodiversity projects, school upgrades and a new community centre have been proposed by South Gloucestershire Council's Cabinet to drive a green economic recovery.
Part of the council's Capital Programme, the additional funding will deliver six new projects along with funding increases for two existing schemes. The proposals will be decided at today's (Monday 7 February) Cabinet meeting.
The new and increased investments that will benefit South Gloucestershire's communities include:
Commons Connections – £125,000 council funding on top of £1,134,000 of external funding for a project to increase, improve and better connect important habitats for nature to help address biodiversity decline. This will include habitat and access improvements across 67 green spaces in the Kingswood area and the project also seeks to raise awareness and encourage use of the sites thereby sustaining health and wellbeing benefits.
Ladden Garden Village Community Centre – £2.93 million for the delivery of a new community building, located in the local centre at Ladden Garden Village in Yate. £2.79 million of the funding has been secured as Section 106 developer contributions, with £140,000 provided by the council.
Castle School Education Trust (CSET) Masterplan – £679,000 additional funding for improvement work at Castle School (Thornbury) and Marlwood School (Alveston). £427,000 will be provided by Section 106 developer contributions, with £252,000 provided by the council. This brings the total investment to £14.9 million and the overall project includes repair and maintenance works to both Marlwood and The Castle schools, remodeling at The Castle and a new classroom block at The Castle. The first two of these elements are being delivered by CSET and the third is being delivered by the council.
The Grange site development works – £3.84 million for the provision of new sports facilities at the former Grange school site in Warmley. Work is currently underway on the site to enable new homes, a new primary school and improved walking and cycling infrastructure to connect the new developments to the wider community. The total investment is now £10.51 million including grant funding of £4.65 million from Homes England and £2.02 million from the Brownfield Land Release Fund.
Thornbury High Street improvements – £4.577 million additional funding to continue to further develop plans for the future of the High Street. This funding will enable the council to continue to build upon the interim High Street scheme introduced in July 2020, which includes the prohibition of through traffic, creation of dedicated blue-badge, loading and drop off bays, widening footways, increasing cycle parking and a new vision for a people orientated High Street with new seating, planting and wayfinding. This brings the total investment to £5.097 million.
South Gloucestershire Council Leader, Cllr Toby Savage, said: "We want to drive a green economic recovery locally and so are investing in projects and services that support communities across South Gloucestershire and have a transformative impact on the places we live and work. The Capital budget is our opportunity to build and to improve the infrastructure we all use to access services, to travel, to learn and to stay well, and to help address the Climate Emergency.
"These low carbon projects will be delivered in a way that achieves value for money and the best possible return on investment for the whole area. Our resources are allocated to help meet our Council Plan priorities and our overall aim is to help to create and maintain jobs and make sure that South Gloucestershire becomes an even better place to live and work, now and into the future."
South Gloucestershire Council's Cabinet are seeking approval for this £18,137,000 budget increase at today's (Monday 7 February) Cabinet meeting. The changes result from adjustments and scheme amendments for new funding (and reductions in funding) that has been awarded since the Quarter 2 Capital Monitor report was approved in November 2021.
The council's Cabinet has the power to increase gross capital spending during the course of the financial year, providing it can also identify corresponding funding sources, such as a new grant, S106 agreement, capital receipt, or specific borrowing approvals.
The funding for these new and increased investments stems from a range of sources, such as Section 106 developer contributions, Economic Development Fund (EDF), WECA and grants.
Details for the Cabinet meeting can be found at https://council.southglos.gov.uk/ieListDocuments.aspx?CId=134&MId=15746
ENDS