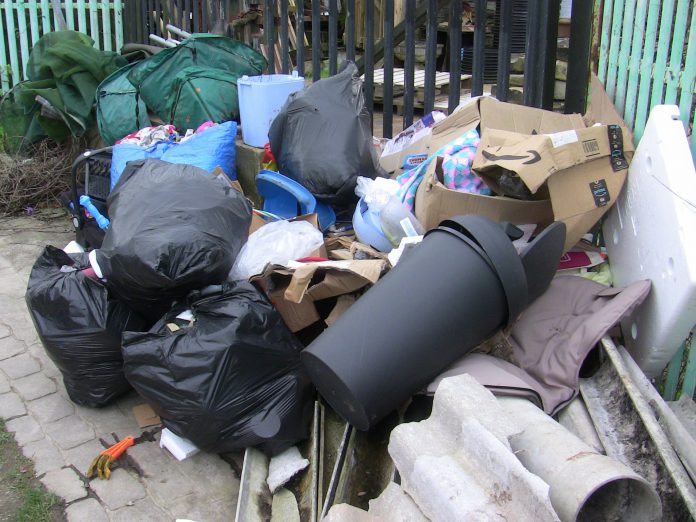 A Patchway man has been ordered to pay a total of £2,950 in fines and costs after being prosecuted for waste related offences following the discovery of a fly-tip in Little Stoke, South Gloucestershire.
Abishek Ravindran-Vaidyaingham, 36, of Wood Street, Patchway was prosecuted by South Gloucestershire Council's environmental enforcement team after a fly-tip consisting of baby clothes, garden items (including a trampoline), plastics and black bin bags of household waste was discovered on Station Road in Little Stoke on 2 February 2020.
The fly-tip was reported to South Gloucestershire Council and environmental enforcement officers attended the location, took photographs and seized evidence in the form of documentation with the defendant's address on, which was found amongst the waste.
Officers attended the home address of the defendant on 4 February. He was not at home at the time, but they spoke to him by telephone to make arrangements to formally interview him at a later date. He admitted his responsibility for the fly-tip and after returning home that same evening, he went to Station Road and cleared the waste himself.
Ravindran-Vaidyaingham was interviewed under caution on Thursday 6 February, where he admitted the offence. He explained that on Sunday 2 February he was moving address and had completely filled his car with household waste. He said that he went to the local recycling centre in Little Stoke but it was closed when he got there, and as he required his car for work the following day, he emptied the waste into a nearby entranceway. He also explained that he had intended to return and dispose of the waste properly but was unable to do so on Monday 3 or Tuesday 4 February, which is when he was contacted by the Council.
Appearing at Bristol Magistrates Court on 22 February 2021, Ravindran-Vaidyaingham pleaded guilty to the illegal disposal of waste and was fined £1,996, along with £773 in costs and a victim surcharge of £181.
Cabinet Member for Communities and Local Place Cllr Rachael Hunt said: "Each one of us has a responsibility to correctly dispose of our household waste and there really is no excuse for this type of behaviour. This gentleman should have made sure that he was able to legally dispose of his waste before loading his vehicle. Fly-tipping blights our countryside and has a negative impact on our communities and local environment.
"Our zero-tolerance approach to fly-tipping in South Gloucestershire means that anyone who fly-tips here is up to five times more likely to be prosecuted than anywhere else in the country. Our award winning environmental enforcement team has a 100 per cent record of securing successful prosecutions for this type of offence, so if you fail in your duty of care and allow rubbish to be fly-tipped in South Gloucestershire, you can expect to be caught and brought before the courts."
Rather than directly issuing fly-tipping Fixed Penalty Notices, which is one tool that can be used by local authorities in some circumstances to combat fly-tipping, South Gloucestershire Council adopts a different approach to tackle the problem. Our environmental enforcement team co-ordinates education and enforcement action, gathering evidence to pursue offenders through the courts.
Residents and businesses are advised to only give their rubbish to an Environment Agency registered waste carrier.
Contractors should ensure that they hold a Registered Waste Carriers Licence and they comply with the Waste Transfer Note requirements.
You can carry out these simple steps to make sure your waste is disposed of legally:
Ask for a copy of the company's waste carrier registration certificate and ask where the waste is being taken. Legitimate firms will be happy to provide this information.
Do not be tempted to use people offering cheap waste clearance on sites such as Facebook and Gumtree unless you have confirmed that they are registered with the Environment Agency
Check whether the waste carrier is registered by calling the Environment Agency on 08708 506506 or by checking on their website https://environment.data.gov.uk/public-register/view/search-waste-carriers-brokers
Ask for a registered trading address and contact telephone number for the trader and get a receipt.
Unwanted goods and household or garden waste can all be disposed of at no cost via the council's Sort It centres.
Residents who see illegal fly-tipping are encouraged to report it by using our web form at www.southglos.gov.uk/flytipping or emailing streetcare@southglos.gov.uk or contacting the StreetCare helpdesk on 01454 868000.