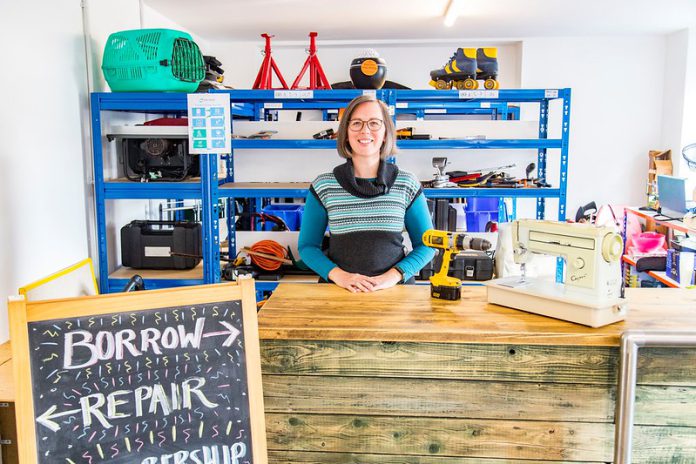 Grants totalling almost £800,000 have helped South Gloucestershire's independent traders and high streets to recover, post-pandemic.
More than 50 businesses and organisations across South Gloucestershire have received a share of the funding aimed at improving and regenerating our high streets in Chipping Sodbury, Downend, Filton, Hanham, Kingswood, Staple Hill, Thornbury and Yate.
The council's Help Us Thrive grants, which were launched by the authority to help high streets bounce back following the Covid-19 pandemic, have currently funded £378,000 worth of improvements and projects across the district. Applications had to support one, or more, of five themes: a diverse and well-served high street; use of new technology to support the high street; growth of existing employment; supporting localism and social inclusion; and supporting community, independents and small businesses.
In addition, the government's Welcome Back Fund provided a further £400,913 worth of investment to support South Gloucestershire's High Streets. This fund was launched in 2021 by the Department for Levelling Up, Housing and Communities, funded by the European Regional Development Fund (ERDF), to support the safe return to high streets and help build back from the pandemic.
A variety of businesses, originations and projects across South Gloucestershire benefitted from the two funds.
In Kingswood, A Library of Things, which is a community project where people can borrow things they may need occasionally but do not wish to buy, such as a drill, a tent or a projector, used their grant to improve the outside of their shop, making it more attractive to passers-by. Director, Judith Gordon, said: "We feel we're providing a facility that's wanted and needed on the high street, whilst reducing waste."
The Venus School of Dance in Hanham, were able to restage their postponed performances of the musical A Night at The Movies, thanks to the money they received. Director, Kathy Millichamp, said: "There was so much work entailed in restaging the show, from reprinting to altering costumes, that the grant was a godsend, It allowed me to provide extra resources and cover extra staffing hours to help with the mammoth task of re-arranging and resulted in a wonderful show which at one point we thought would never happen – so thank you!"
Mokka Lounge in Downend was due to open just as lockdown started in early 2020 and were therefore ineligible for Government support. Unfortunately, once they could open, social distancing rules meant reduced capacity indoors, so the team used their grant to help maximise their business space. Co-owner, Mitch Hoare, said: "We decided to transform the unused space outside the building into a terrace, which offered more seats and enabled us to employ more staff. It's been really successful."
The Swan on Thornbury High Street was another business that used the grant to create outdoor dining space. Landlady, Sandra Davies, moved the pub's 'eating in' offering to 'eating out' with tables and chairs outside the front of the pub to complement the back garden space. The additional outdoor space proved massively popular, especially during the summer months and even after eating indoors was permitted again.
Pete Blake, Owner of CrocsRUs: The Reptile Zone in Filton, which offers experiences and educational programmes as well as the retail of small reptiles, put his business grant towards the purchase of two animatronic dinosaurs that can be hired out commercially or loaned to community events. He said: "Our dinosaurs really put the WOW into any event. We are very grateful to have had support through use of the Thrive grant from South Gloucestershire Council. It is great to have their support and work in partnership with them for the advancement of the local area."
In Chipping Sodbury, the Chamber of Commerce said the grant was invaluable in helping it to promote local shops and businesses as they emerged out of lockdown with events to encourage shoppers back onto the High Street, including a pirate hunt. Rich McDonough, joint chair, said: "These grants really have helped the local High Street stay afloat and, in some cases, even open up in the teeth of a very difficult trading situation. It's been brilliant to see how so many of them have risen to the challenge rather than just roll over and give up."
Bike Station UK Ltd, on Station Road, Yate, used their grant to completely revamp the outside of the shop, making for a more attractive street frontage. The money was also used to redesign the company's website and refresh the livery on business vehicles. Director, Jude Belcher, said: "The grant came just at the right time for us, and we're delighted that, despite the challenges of 2020 and 2021, we have been able to actually build our customer base and contribute to a thriving local high street, which is so important to us."
Georgina Lake, owner of Staple Hill florist Bunch, used her business grant to provide a much-needed injection of colour on the local high street during lockdown as well as improving her online offering, vital to her continuing to do business and serve her customers. She said: "When we were forced to close, we wanted to continue to bring this fun and colour to the local high street and the grant enabled us to do this, which was lovely. It also allowed us to make some upgrades to our website which were critical to us continuing to do business."
Councillor Rachael Hunt, cabinet member responsible for communities at South Gloucestershire Council, said: "I am really encouraged to see how our high streets responded to the pandemic and pleased that these grants have been deployed in so many imaginative ways.
"I have visited and seen first-hand many of the Help us Thrive grant initiatives and want to applaud all of those who have adapted or changed and made sure the local high street continues to do just that – thrive.
"There was already change happening on our high streets. Covid-19 has accelerated this in South Gloucestershire and the UK with more online shopping and more home working. These changes provide opportunity for local businesses to rise to meet the challenges of change."
The council continues to work with local chambers of commerce, trader partnerships, community groups and residents. Independent high street retailers can contact the council to find out what support is available by emailing the council's high streets team at highstreets@southglos.gov.uk
For more information on our high streets, visit www.southglos.gov.uk/shopsouthglos