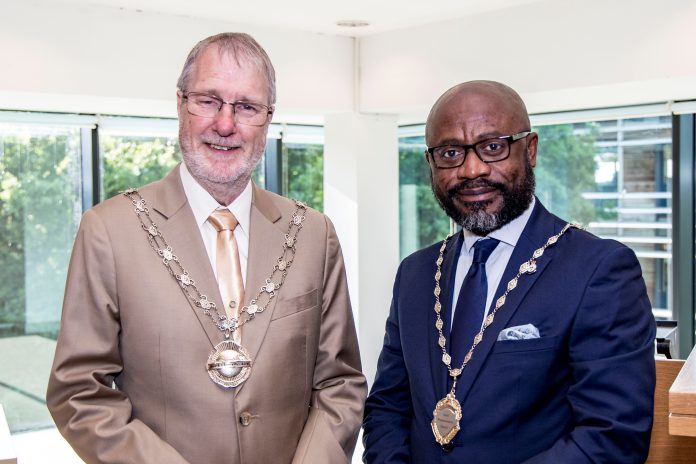 Councillor Mike Drew has been named as the new Chair of South Gloucestershire Council after being elected by fellow councillors at the meeting of full council this week (24 May).
Councillor Drew moves into the role with 40 years of ongoing service as a local councillor, with councillor Franklin Owusu-Antwi elected as Vice Chair this year.
The Chair and Vice Chair perform important ambassadorial roles, including representing the council at civic functions and chairing council meetings.
Each year, the new Chair selects a charity to support for the year ahead, with donations received during that time presented at the end of the Chair's term of office.
Councillor Mike Drew, Chair of the Council said: "Thank you to everyone for electing me as Chair of the Council for the year ahead. This will be my second period as Chair after I was appointed to the role 12 years ago and it is an honour to be chosen to serve once again.
"My charity for this year is the Motor Neurone Disease Association for the Bristol and Bath area. I have chosen them because five years ago my younger brother died from motor neurone disease, and it was extremely difficult to see the impact it has on people. I'm hoping we can contribute towards the fantastic work of the Motor Neurone Disease Association and the important work they do to support people diagnosed with the disease, and their families."
Outgoing Chair, councillor Sanjay Shambhu said: "I would like to express my gratitude to every councillor who helped run the Chair's office during the last civic year, including some colleagues who decided to retire in the runup to the election on 4 May, and some that were not re-elected.
"Councillor Judy Adams deserves a special mention for her valuable advice, and thanks also to all members who contributed to my chosen charity for the year, SSAFA (The Armed Forces Charity). We raised funds which will help to support UK military serving personnel, their families and veterans. I thank council officers for their steadfast support over the year and wish councillor Drew good luck and success for his upcoming term as Chair."
For further information on the work of the Chair of the Council, visit: https://www.southglos.gov.uk/council-and-democracy/councillors-democracy-and-elections/council-chair/