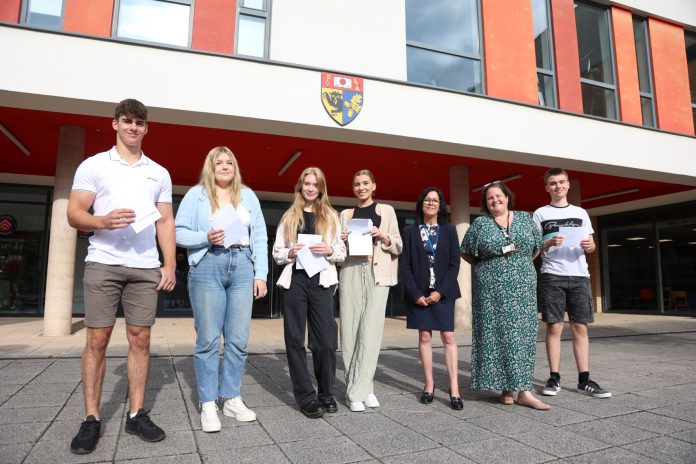 The Council sends its warmest congratulations to students who have received their A-level, BTEC and T-Level results today, as data so far suggest that 2022 has been another successful year for young people studying at schools and colleges in South Gloucestershire.
The overall performance in the first set of A-Level results following the pandemic is very positive, particularly as it includes students who were unable to sit formal GCSE exams during the period of Covid restrictions. The results are best compared to 2019, which was the last year that performance data was released in this way, and against this schools are reporting improving results.
All schools have highlighted some special achievements and success for individual students, with many not only progressing to their first-choice university places, but also into employment and apprenticeships.
Improving educational outcomes in South Gloucestershire is the council's number one priority. Secondary and Post-16 Ofsted assessments of schools in the area have seen outcomes improve significantly since 2018, with over 80 per cent of secondary aged pupils now attending a 'Good' school. It is very pleasing to see that the overall A-Level results for students at South Gloucestershire schools and academies mirroring the positive improvements being reported through those inspections.
South Gloucestershire Council Cabinet Member for Schools, Skills and Employment, Councillor Erica Williams, said: "It has been a great results day for many of our A-level students across South Gloucestershire and it was a pleasure to be able to join some of them as they collected their results this morning and share the experience."
"Improving our schools and educational outcomes for young people in South Gloucestershire is our number one priority and even though the overall results are still provisional at this stage, there is clearly a lot to celebrate in our first set of results post the Covid pandemic.
"I would like to congratulate all of our students, whatever grades they have received, and wish them the very best for the important next steps in their lives, whether they are going on to university, a new job, apprenticeship or a vocational qualification.
"Our thanks go out to all pupils and school staff for their hard work and dedication to achieve these excellent results in what we know has been a challenging year for schools because of the pandemic."
Of particular note are the excellent results recorded by the Cotwold Edge Sixth Form, which covers pupils from Brimsham Green School, Chipping Sodbury School and Yate Academy. Kim Garland, the Headteacher at Brimsham Green School, said: "Perhaps this year, more than ever, Cotswold Edge students are so deserving of their fantastic grades. Our partnership working continues to provide a rich curriculum offer, preparing students well for their diverse and exciting post 18 destinations."
Katherine Turner, Headteacher at Chipping Sodbury School, added: "The staff at each of our three schools have worked tirelessly for our students – there is no better day than today when we see this paying off: we couldn't be prouder of what students have achieved, overcoming the challenges of the last two years."
Natalie Wilcox, Headteacher at Yate Academy, said: "Cotswold Edge students have worked with determination and made superb progress; they leave us now not only as young adults who have been academically successful, but as individuals who will go out into their communities and beyond and make a difference to people's lives – they are our future doctors, teachers, engineers and much, much more."
Across the Olympus Academy Trust, which covers Bradley Stoke Community School, Winterbourne Academy and Abbeywood Community School, highlights across A-Level and vocational courses, included:
• Over 30 per cent of grades at Bradley Stoke Community School and Winterbourne Academy were A or A*
• Abbeywood Community School improved their percentage of A*-C grades by 16 per cent
• Over 100 learners took Maths A Level this summer and 48 per cent of these were graded A-A*
Olympus CEO, Dave Baker, said: "The strong results achieved by Post-16 students across the Trust this year are of particular significance as they have come out of a period of adversity and challenge for learners who missed their GCSE exams and so much face to face teaching because of the global
pandemic. I offer my congratulations to students and wish them all well in their next steps. Thanks also to all Olympus staff who have supported students to succeed."
Lisa Howell, Headteacher at Downend School, part of the Castle School Education Trust (CSET) Multi-Academy Trust, said: "Year 13 students should all be congratulated on their excellent results. They have all shown such determination and resilience, and as a result have all received the grades they needed to progress onto their first choice destinations. We are very proud of all of their achievements and wish them well as with their next steps."
At the Castle School Sixth Form, part of CSET and which encompasses both The Castle School in Thornbury and Marlwood School in Alveston, the average grade achieved across 148 students was a B for the A-Level courses and a Distinction for the vocational courses, which are their best examination results to date.
Catherine Cheese, Head of Castle School Sixth Form, said: "We are incredibly proud of this cohort of students and the dedication and resilience they have shown to their studies throughout the past two years, especially within the context of Covid-19.
"They have shown determination to achieve their goals as well as such kindness to one another throughout the whole process. It has been a privilege to work with these students and we wish them all the very best for their futures."
Headteacher, Joe Docherty, said: "Well done to all our students at the Sixth Form for their results. Success comes in many different forms and we are proud of our students for progressing onto a number of different university courses as well as employment and training.
"Some students have gained results well beyond their expectations, whilst others have made life-changing progress throughout their time at our Sixth Form.
"My thanks go to all the staff who have taught and supported them, and to parents and family members for supporting them – but today is mainly about congratulating these young people and wishing them success for their next stage in their lives."
It is important to remember that for students and parents/carers who are still unsure about their next steps, Post-16 advice and guidance is available through their school or college, from UCAS, via Careerpilot online, or via the National Careers Service Helpline for Teenagers on 0800 100 900.