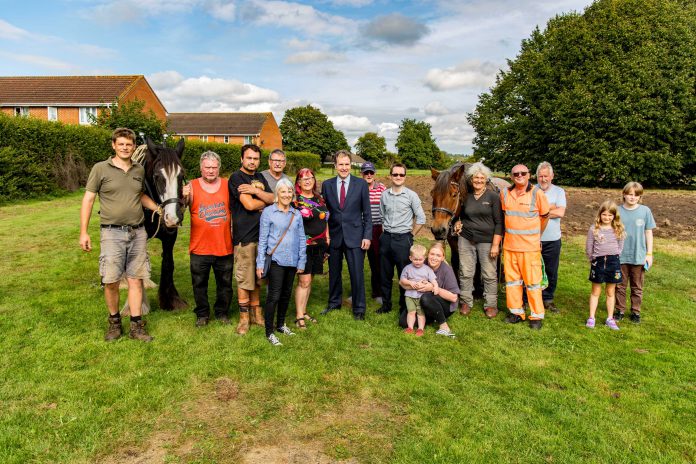 Heavy horses are helping to sow new wildflower meadows at Jubliee Park in Cadbury Heath to boost biodiversity and be enjoyed by the local community.
Three wildflower meadows which will burst with colour and wildlife are being created with the help of a team of three 'heavy' horses called Flynn, Kipp and Quin.
The horses arrived this week (11 September) and are harrowing the soil to make a suitable seed bed as part of the project led by South Gloucestershire Council and funded by the West of England Combined Authority. They will then sow the wildflower seed and roll it afterwards. The seed has been supplied for local meadows including the Highgrove estate.
Jubilee Park is being created by the council to commemorate Her Majesty Queen Elizabeth II and the coronation of His Majesty King Charles III. The project to create a new biodiversity park for local people and wildlife in Cadbury Heath has also been supported with £55,000 funding from the council's Climate and Nature Emergency funding.
Funding to create the wildflower meadows comes via a £53,000 grant from the Combined Authority, as part of its push to make the West of England the Bee and Pollinator Capital of the UK.
Once a former pitch and putt site, the park in Cadbury Heath is being transformed, with a range of biodiversity projects, which will create a one-hectare area for pollinating insects to find food and shelter. In addition to the seed, the Combined Authority grant will fund 5,000 wildflower plug plants that will be supplied by Grow Wilder, Avon Wildlife Trusts plant nursery.
South Gloucestershire Council Partner Lead Members for Communities and Local Place, Councillor Jayne Stansfield, and Climate and Nature Emergency, Councillor Alex Doyle, were joined by Mayor Dan Norris and local residents to mark the start of project to sow the wildflower meadows.
Councillor Jayne Stansfield said: "It is fantastic to see these magnificent horses in action as they prepare the soil at Jubilee Park for beautiful wildflower meadows which will teem with wildlife when established. Heavy horses are being used due to their low environmental impact and as a sustainable alternative to heavy machinery, which would overly compact the soil. We are facing climate and ecological emergencies so projects like this are vital to provide wildlife havens where our residents can relax and enjoy nature."
Mayor Dan Norris said: "Bees matter. Simply put, we can't live without them. That's why I was so delighted to meet Flynn, Kipp and Quin helping get Jubilee Park ready to bloom thanks to funding from my Mayoral Combined Authority. I wouldn't give them a B – they deserve an A+!
"I'm proud to be investing in projects supporting our region's pollinators like this soon-to-be wildflower haven at Jubilee Park – good news for Cadbury Heath locals, and even better news for its pollinators who do so much for us. It's projects like these that will really help us make our amazing West of England region the bee and pollinator capital of the whole country."
A selection of photos can be found here: https://flic.kr/s/aHBqjAURp9