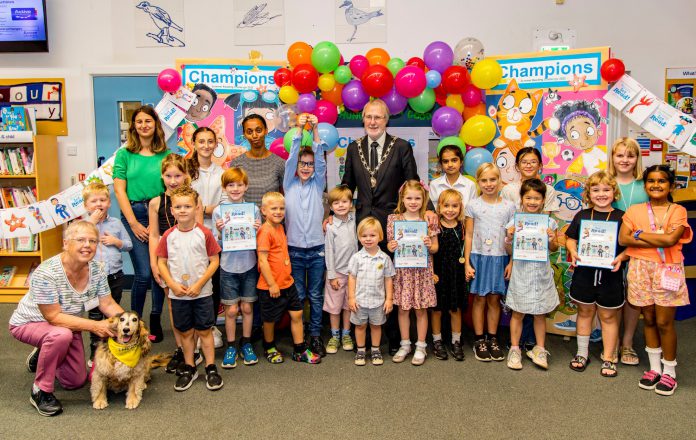 More than 6,300 children have taken part in this year's Summer Reading Challenge at South Gloucestershire Libraries, reading over 117,000 books during the school, summer holidays.
This summer Libraries and The Reading Agency partnered with The Youth Sport Trust for 'Ready, Set, Read!', a sports, games and play themed challenge to highlight the positive impact that reading, keeping active, and having fun have on a child's development.
The Summer Reading Challenge increases children's reading engagement and confidence, and supports priorities we all share, including the levelling up of opportunity, and the support of children's health and wellbeing.
Primary school children from across South Gloucestershire took part by reading books throughout the holidays and collected exclusive incentives including free swim vouchers and Ready, Set, Read! seeds. There was also a mini challenge which was specially designed for pre-school children to help prepare them for their first day at school.
To celebrate the success of everyone who took part this year, the Chair of South Gloucestershire Council, Councillor Mike Drew, attended a special event at Emersons Green Library to meet a group of local children and present them with their Summer Reading Challenge medals and certificates.
Councillor Mike Drew said: "It's outstanding that over 6,000 children in South Gloucestershire have taken part in the Summer Reading Challenge 2023, Ready, Set, Read! Children's reading can dip during the long summer holidays, but taking part in the Summer Reading Challenge at the library really helps children to boost their reading ability and develop a lifelong habit of reading for pleasure. It has been great to meet some of the children and their families who have taken part this year; it is clear how much the Summer Reading Challenge means to them and the positive difference it makes. Well done to all the children who have taken part this year."
Carolina Cheasley, whose children received medals and certificates at the event said: "It does make a difference. It encourages them, especially in a very busy time as holidays are. They love completing the challenge and it makes them feel very proud."
Babita Bisen, whose child also received their medal and certificate said: "I like the Summer Reading Challenge as it keeps my daughter busy. She loves reading and visiting the library. Every year she looks forward to participating in the event. It's a very good way to engage children in reading."
Summer Reading Challenge volunteers have been on hand throughout the summer to encourage and support children taking part. To recognise their contribution, volunteers were also awarded with certificates.
One of the volunteers, Elizabeth Dalle Fusine, who supported this year's Challenge and attended the celebration event said: "It's my second-year volunteering for the Summer Reading Challenge and I really enjoyed it. It's nice to work with the library staff and talk with the children about the books they read. I think it is a great experience and I am looking forward to doing it again."
To keep children busy and create a positive attitude towards reading, libraries ran lots of free activities including ZooLab animal workshops, Ready, Set, Read! themed crafts and Lego™ clubs throughout the summer.
South Gloucestershire Libraries also supported the programme which helps keep children fed and active through the summer break with South Gloucestershire Playscheme, Juice Community Project and Charlton Wood Out of School Club to bring the Summer Reading Challenge to children taking part in the Holiday Activity and Food Programme (HAF) across the district to reach more families.
Find out more at www.southglos.gov.uk/summerreadingchallenge or like us on Facebook www.facebook.com/sgloslibraries for the latest updates.