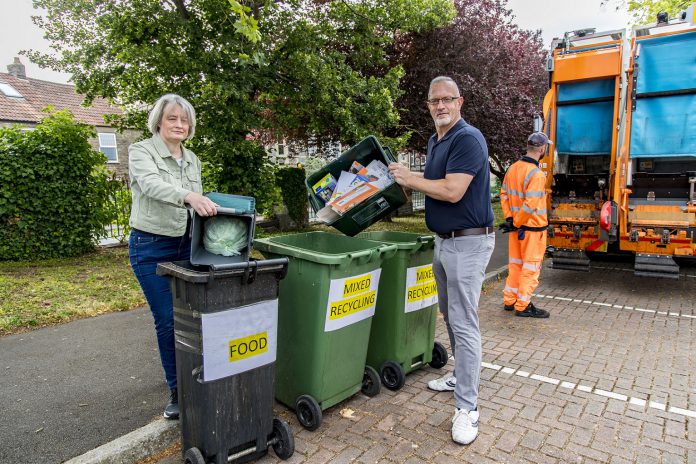 Due to the prolonged period of strike action by Unite the trade union's members at our waste contractor SUEZ, we are putting additional measures in place to help residents deal with the impact on kerbside collections.
We are prioritising black bin collections, including nappy sacks, as they often contain unpleasant waste. Please put your black bin out on your scheduled day. If it is not collected, please report a missed collection.
We are aware of residents' concerns around recycling and food waste not currently being collected and have made special arrangements for extra deposit points at a number of locations across the district in addition to the Sort It centres in Yate, Mangotsfield and Thornbury.
We would like to thank everyone who has been taking their recycling and food waste to the Sort It centres and we apologise for the inconvenience caused by the strike action.
Recycling and food waste can be taken to four additional locations around South Gloucestershire every weekday between 8am and 2pm. These locations are:
Stoke Gifford Park and Ride (Parkway station) – Hunts Ground Road, BS34 8XX
Lyde Green Park and Ride – Willowherb Road, BS16 7GG
Page Road short stay car park Staple Hill – Page Road, BS16 4NE
SGC North Way site, Filton – BS34 7QG.
In addition, there will be further recycling only bins available from 12noon on Tuesday 4 July where residents can deposit cardboard, paper, glass, cans and plastic, accessible 24/7. The locations of these are still to be confirmed and details will be announced as soon as possible.
Leader of South Gloucestershire Council Councillor Claire Young said: "The industrial dispute between SUEZ and UNITE is continuing to cause a great deal of inconvenience and concern to our residents. Until it is resolved, the Council will carry on doing all it can to help keep people informed and we urge both parties to reach a swift agreement.
"We are working with the staff that SUEZ does have available to provide the best level of service possible under the circumstances. We are focusing on black bin collections, so waste like nappies and dog waste will be collected. We're also working with SUEZ to try to bring additional food waste services on board."
For further information please visit www.southglos.gov.uk/servicedisruption or telephone 01454 868000
To report a missed collection visit https://beta.southglos.gov.uk/report-a-missed-waste-or-recycling-collection