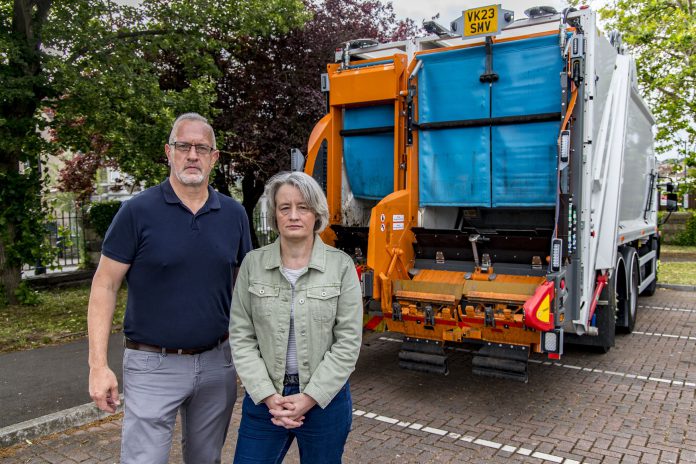 An open letter from the Leader and Co-Leader of South Gloucestershire Council to Unite the union and SUEZ regarding their industrial dispute.
We are writing an open letter to you, on behalf of the residents of South Gloucestershire who are concerned about the current industrial dispute over pay, between Unite members and their employer SUEZ.
As Leader and Co-Leader of South Gloucestershire Council, we are calling upon both Unite and SUEZ to explain what actions have been taken to date to settle the industrial action and to set out how you will resolve the dispute between yourselves.
The collection and recycling of waste in South Gloucestershire is delivered through a 25-year private finance initiative (PFI) contract, which is due to end in July 2025​.
With the help of our residents, this arrangement has been a major success, achieving:​
An increase in recycling from 14% in 2003 to almost 60% in 2021-22, making us the 2nd ranked Unitary Authority in the country​.
Substantial resident service improvements including weekly dry and food recycling, assisted collections for vulnerable residents and kerbside sort recycling, all improving our ability to reuse our materials​.
A national leading trial of soft plastic kerbside collection​.
One of a small number of Local Authorities who will be near compliant on future government requirements on consistent collection​; and,
Reduction of waste to landfill by 27%, down to just 8% in 2021-22​.
All of this has resulted in a positive customer satisfaction rate of 74% (2022-23), the highest of all council services in South Gloucestershire.​
Our residents, the council and the SUEZ management and workforce have, working together, delivered this success story and the current dispute between Unite the union and Suez as employer is putting this at risk.
We believe that residents are owed a clear explanation of your actions to date as well as the details of how you are seeking to resolve the dispute, so that waste services can return to normal, and we can continue the collective effort and do even better.
We look forward to receiving your response and for the avoidance of doubt we will publish this for residents.
Cllr Claire Young, Leader of the Council
Cllr Ian Boulton, Co-Leader of the Council