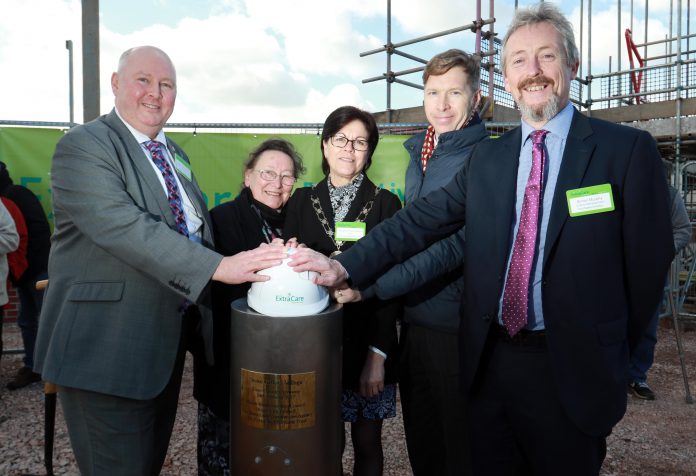 Up to 100 older people hoping to move into the new Stoke Gifford Retirement Village were able to take part in a time capsule burial that was held on the Village construction site.
Amongst those present at the ceremony was 77 year old Miriam Galway who lives in a three bedroom flat in Westbury on Trym.
She said: "I'd like to move into the village as it would give me the opportunity of having lots of company. I used to be in a singing group and an operatic society and I love to do arts and crafts and cross stitch. I'm also a member of a gym at the moment. The village would give me the chance to do these things with company."
The village is due to open in late 2018, to the East of Coldharbour Lane near to the University of the West of England campus. The £53 million project is a partnership between registered charity, The ExtraCare Charitable Trust, South Gloucestershire Council and Bristol City Council, with the Homes and Communities Agency also contributing £2.389m.
Applications open later this year and over 400 households have already registered their interest.
The village will provide 261 spacious apartments for purchase, shared ownership and rental with care and dementia support available on site for residents who need help to live independently. Each apartment will have its own kitchen, shower room, one or two bedrooms and living room. A significant number of homes will also have their own balconies.
Stoke Gifford Retirement Village is set to become a vibrant community where older people, volunteers, friends and families can enjoy a range of social and leisure facilities including a village hall, bar and bistro, gym, IT suite, hair and beauty salon and a shop which can be used by residents, their families and the local community.
ExtraCare's award winning well-being service will also help residents to look after their health.  A research project undertaken by the Charity with Aston University found that ExtraCare residents experienced a significant reduction in the length of unplanned hospital stays and routine GP appointments fell by 46 per cent after a year. Residents are offered well-being assessments, drop in sessions and information groups.
Simon Murphy, Interim Development and Sales Director for The ExtraCare Charitable Trust, commented: "Stoke Gifford Retirement Village represents a bold move towards affordable retirement living where older people can live independently in their own homes as part of an inspirational village community with care available if required.
"We believe our Charity is offering local older people seeking to downsize a fresh and positive opportunity in later life."
South Gloucestershire Council's Adults, Housing and Public Health lead member Cllr Ben Stokes, said: "The ExtraCare village being developed on the border of South Gloucestershire and Bristol is a unique housing scheme providing purpose-built facilities for the over 55s, to help them stay living in their own homes for longer.
"Having the privacy of your own apartment whilst knowing that a care team is on site 24/7 not only provides peace of mind for people living at the development, but for their families too.
"Once completed, the village's wide range of communal facilities will provide opportunities to learn new hobbies, take part in gentle exercise classes and to socialise with other people living at the village; many of the key ingredients for reducing loneliness and isolation.
"The time capsule celebration represents another key milestone for the development and demonstrates South Gloucestershire Council's commitment to developing ExtraCare housing for older people."
Cllr Clare Campion-Smith, Cabinet Member for People at Bristol City Council, said: "As our ageing population grows, we are planning ahead to make sure local people's needs are met so they can continue to lead fulfilling lives well into their later years. Good quality housing is key to this and Stoke Gifford Village will offer a mix of flexible living options, with adaptable support when people need it, which will help residents to stay independent for longer. Crucially, the new development has been designed to create a strong sense of community, which we know supports overall well-being. This is another step forward in Bristol's journey to becoming a more 'age friendly' city."
Thousands of older people have already benefitted from living in an ExtraCare village and in 2016 the Charity won three national awards linked to its village developments, well-being and care programmes and its innovative approach to providing older people's services.
Nearly 100 people a month are already attending meetings to find out more about the village before applications open next summer. Older people wishing to join the meetings or register their interest in the village can contact 0870 777 4800 or email new.villages@extracare.org.uk
For more information about Stoke Gifford Retirement Village, please visit www.stokegiffordvillage.co.uk