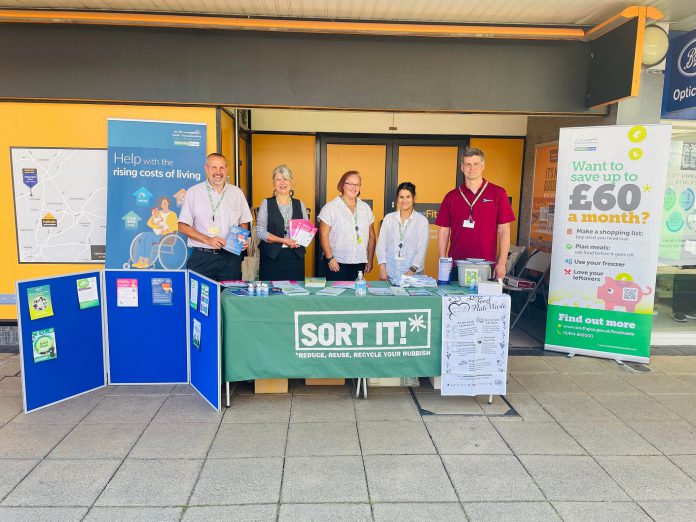 South Gloucestershire Council is working to help people in the area manage their budgets in light of the rise in the cost of living.
This summer, officers from the council's financial support team will be out in shopping centres across South Gloucestershire to talk to people about the various help available as well as offering top tips to save money.
The pop-up roadshows will offer information about eligibility and how to apply for funds and extra support available to people who need it, including council initiatives such as the Community Resilience Fund and Household Support Fund. There will also be information on rebates and reductions, such as the Council Tax rebate and reductions in Council Tax, as well as guidance on where to check if you are eligible for national support such as the Universal Credit top-up payment.
The council has also produced tips and advice to help save money in and around the home. There will be information available on how to cook smarter to save money on energy bills, keep your house cool in summer and warm in winter, and how to make the most of the food you buy.
The council's waste and recycling team will also be on hand to give handy hints on how to minimise food waste and how to recycle your food waste, which reduces the cost of waste for South Gloucestershire.
There will additionally be information on free days out with children for families to enjoy this summer, such as visiting our community farm in Kingswood, and activities to try during the summer holidays for little or no cost.
The dates of the roadshows are:
Monday 15 August, 10am-12pm St Mary's Shopping Centre, Thornbury
Thursday 18 August, 10am-2pm Willow Brook Shopping Centre, Bradley Stoke
Thursday 25 August, 11am-3pm Yate Shopping Centre
Tuesday 30 August, 10am- 2pm Kings Chase Shopping Centre, Kingswood.
Councillor Ben Burton, cabinet member responsible for corporate resources at South Gloucestershire Council, said: "The cost of living is continuing to rise and we know lots of our residents are facing the strain of higher bills and costs.
"We want to help those in need as much as possible and by going out to busy places to talk to people in person, we hope we can provide some useful advice and tips to save money and how to access the support available.
"Our financial support and waste and recycling teams have lots of information and expertise so do visit them at one of our roadshows for a friendly chat and make sure you are not missing out on help you may be eligible for."
Further information on financial support available is at https://beta.southglos.gov.uk/financial-support-for-residents
For more information on food waste and recycling visit https://beta.southglos.gov.uk/food-waste