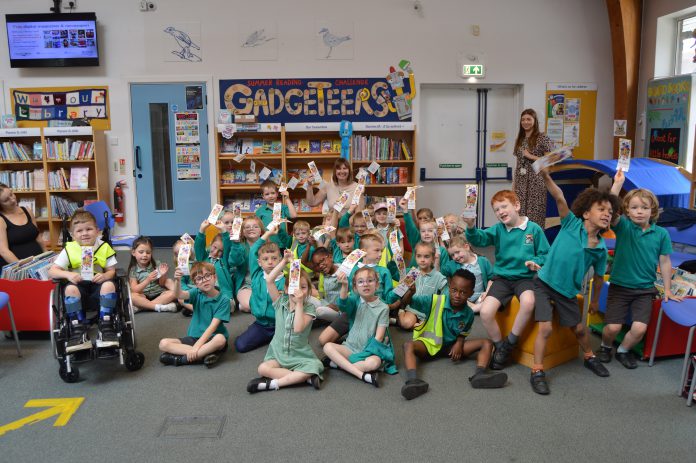 South Gloucestershire Council's library service is inviting all primary school aged children to visit their local library this summer and take part in the 'Gadgeteers' Summer Reading Challenge 2022.
Libraries and The Reading Agency have partnered with the Science Museum Group for a science and innovation themed Challenge, to spark children's curiosity about the world around them and celebrate how the imagination plays an important role in reading and the sciences.
The free Challenge launched on 9 July and supports children to become more independent readers, improving confidence in reading over the summer break. It also supports positive mental wellbeing, boosting confidence and self-esteem.
Children aged between 4 and 11 sign-up at their local library, read six books over the summer holiday and receive stickers to complete a special collector's poster. A medal and certificate are then presented to those who complete the Challenge, which ends on 10 September.
With exclusive incentives including free swim vouchers and brilliant books to enjoy, 'Gadgeteers' is the perfect way to build young readers' skills and confidence during the school, summer holiday.
Councillor Rachael Hunt, cabinet member for libraries said: "The Summer Reading Challenge is a highlight for thousands of children during the summer holidays and we hope more than ever take part this year, especially those who have just started school. Discovering the joy and fun of reading at an early age can help with a child's development, and the Summer Reading Challenge is a great way to support literacy over the holidays when it can sometimes dip.
"We have just announced exciting plans to provide all reception and year 1 pupils with their own library card and to roll it out further as part of a drive to encourage children to read more for pleasure, so this is a perfect opportunity to explore your local library.
"Reading is a fantastic activity to enjoy during the summer break and it can be combined with the other free and exciting activities taking place at our libraries. I encourage parents to take their children along to their local library and sign up for the Challenge to see how it can support their child's literacy."
South Gloucestershire libraries have some of the longest opening hours in the country (open 50% longer than the national average) as a result of investing in 'Open Access' technology to allow people to use them seven days a week. It means that South Gloucestershire libraries are open 80% longer than before Open Access was introduced, so children can visit libraries with their families at weekends and any evening of the week.
Find out more about the Summer Reading Challenge at www.southglos.gov.uk/summerreadingchallenge or like us on Facebook www.facebook.com/sgloslibraries for the latest updates.