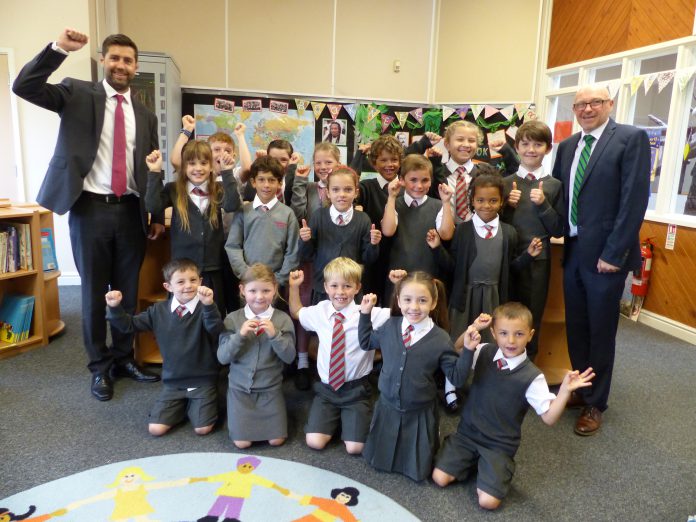 Staff and pupils at Almondsbury Church of England Primary School are celebrating being rated 'outstanding' following their recent Ofsted inspection.
The report, published on Monday 4 September as pupils returned for the new school year, gave the school the top mark in all categories and highlighted that 'Teaching across the school is of a consistently high standard' and 'Teachers and teaching assistants develop caring, supportive relationships with pupils'.
Ofsted inspectors visited the school in June. Their report goes into detail, but they provide overall assessments for five key areas:
Effectiveness of leadership and management
Quality of teaching, learning and assessment
Personal development, behaviour and welfare
Outcomes for pupils
Early years provision
Each of these, as well as the school's grade for Overall Effectiveness, were given the top mark of 'outstanding'. The school received a 'good' rating when it was last assessed in 2014.
Headteacher, Paul Smith, said that he and his staff were delighted and particularly pleased that pupils also received credit in the report.
"We are all so proud of the staff and children. It is a privilege for me to be the Headteacher of such an amazing school. Everyone works so hard to enable the children to achieve so well; as well as ensuring that pupils are cared for and leave Almondsbury as well rounded and successful individuals, who have a strong set of morals and values to take into later life.
"Everyone at the school should be extremely proud of this assessment, which highlighted the incredible staff that we have at Almondsbury. They have been rightly praised for their knowledge of our pupils' needs and how well children with a range of additional needs are supported to do as well academically as everyone else. The inspectors also noted the impeccable behaviour of the children throughout the school, not only in lessons, but also at play."
Cabinet Member for Schools, Skills & Employment, Councillor Toby Savage, said: "This really is an outstanding result for everyone at the school and what is very clear is that the whole school community works so well together. Rightly, the staff are proud of their work, but the children and their families can also be proud to be part of this school, which is doing great things for these young people.
"It is always lovely to hear about success stories and thanks to the work of everyone at Almondsbury Primary, I am sure we will  hear plenty more success stories in the future as their pupils grow up and continue to thrive."
The Ofsted report can be viewed online at www.ofsted.gov.uk