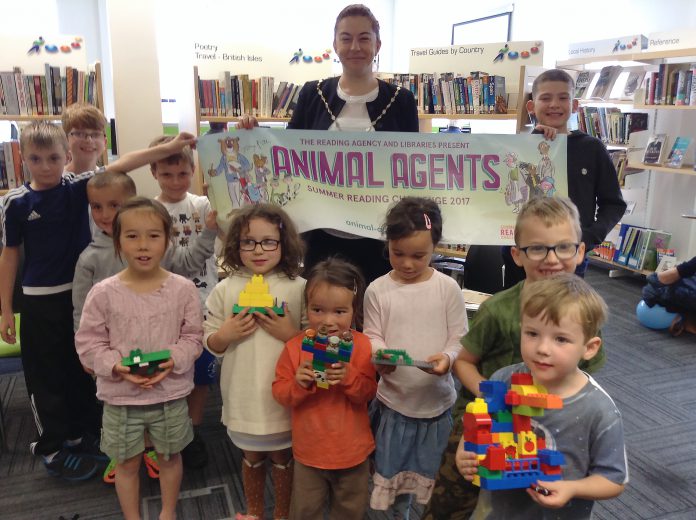 Local children and their families were joined by Vice-Chair of South Gloucestershire Council Cllr Rachael Hunt at Staple Hill Library to launch Animal Agents, 2017's Summer Reading Challenge.
The children were taking part in a special Animal Agents themed Lego Club to celebrate the launch.
Libraries in South Gloucestershire are inviting all children aged 4 to 11-years-old to take part in the Summer Reading Challenge 2017. This year's theme is Animal Agents, based on a detective agency staffed by a variety of clever animals – furry, scaly and slippery – who are out to crack a case at the library with a little help from their friends.
The challenge launched in all South Gloucestershire libraries on Saturday 15 July and runs until 16 September. It's free to join in the fun – all children need to do is head down to their local library. As children read six library books over the summer, they collect stinky stickers which will help them crack the clues and help the Animal Agents find out what's really been going on behind the scenes.
Super sleuths who read all six books to complete the challenge and solve the case get a medal, certificate and a complimentary child's ticket for Wild Place Project* or free library DVD hire.
Children at Staple Hill Library's Lego Club were joined by Cllr Rachael Hunt, Vice-Chair of South Gloucestershire Council, to launch Animal Agents on Saturday 15 July. Cllr Hunt said: "We know from listening to local families and children how much fun they have taking part in the Summer Reading Challenge. Children's literacy skills can 'dip' during the long summer holidays but taking part in the Challenge keeps children reading. More than 6,600 children in South Gloucestershire took part in last summer's Challenge – The Big Friendly Read. This year we hope more children than ever are inspired to take part and make use of their local library throughout the summer and beyond."
Families love doing the Summer Reading Challenge, not only is it fun and free, but taking part makes a difference to children's reading. One parent said: "My children really enjoy the challenge and it certainly encourages them to read and share the stories with the family."
Libraries are also holding free activities throughout the summer to help children complete the challenge including: Bristol Zoo workshops, 'meet a guide dog' visits, 'a day at the zoo' number fun with Explore Learning, and craft sessions. Go to www.southglos.gov.uk/childrenslibrary or drop in to your local library to find out more.
There are also interactive games, a book sorter and fun competitions available from the official Summer Reading Challenge website www.summerreadingchallenge.org.uk