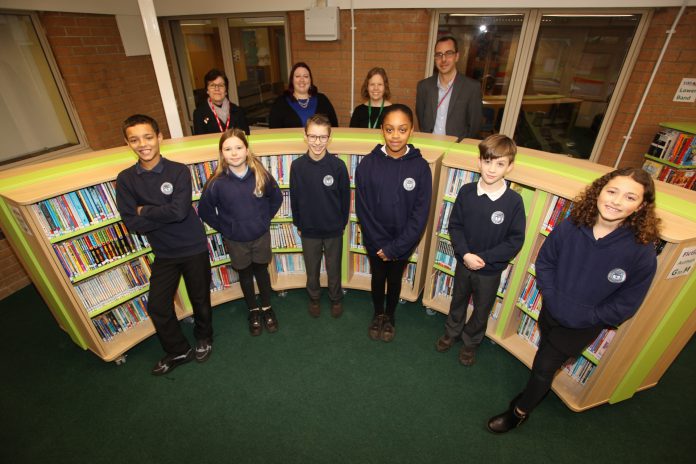 A new library at Christ Church Junior School in Downend has been formally opened this week, following a renovation costing more than £70,000. Storm Diana caused severe damage to the roof in November 2018, also destroying hundreds of books and other resources.
In response to the damage, the school community rallied round brilliantly to save everything possible in the library, which was really popular with pupils as a place to read and learn in different ways. The damage to the roof was extensive, however, we stepped in quickly to commit to restoring the building.
We worked with structural engineers to redesign the roof to withstand future storm events and with local contractors who carried out the repairs and rebuilding. The work has taken considerable time to complete because of the complexity of the design and crucially, because contractors had to work around the school remaining open. Building work was completed before Christmas and staff have worked hard over the past few weeks to re-stock and fit-out a welcoming and exciting new learning space for children to access once again.
Councillor Erica Williams, Cabinet Member for Schools, visited the new space today (Monday 3 February) and said: "I am so pleased that the hard work and investment to restore this vital school library has paid off and that hundreds of pupils will now be able to enjoy reading and learning here for years to come.
"As a council we were all devastated to hear about the damage caused by Storm Diana. Improving school standards is our number one priority, so I'm delighted that we have been able to support the school and work with them deliver this wonderful new library."
Pippa Osbourne, Head Teacher at Christ Church Junior School, said: "We are so delighted to have reached the end of the journey over the last 19 months to rebuild the heart of our school after our library was flooded in November 2018.
"Reading is so vital to children's development and we are passionate about instilling a love of reading in all our pupils, so having the space back will make an incredible difference. We have been so overwhelmed by the generosity and support shown by our parents, the local authority and the local community who have volunteered time, donated books and money and funded the full replacement of the roof and I would like to thank everyone who has offered help, time, books or money to help us."