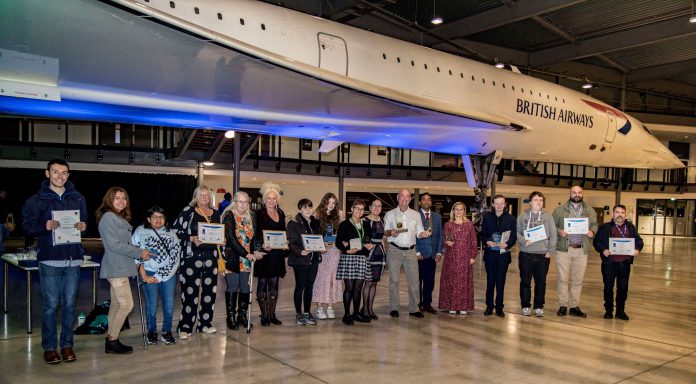 Adult learners from South Gloucestershire have been celebrated at a special event to highlight the inspirational ways they have thrived through taking part in South Gloucestershire Council's Community Learning and Skills Service (CLaSS) courses and 1:1 career progression programmes.
Special recognition was given to the learners for their resilience, significant achievements and innovation, as well as awards being handed out for a Community Champion and a Hidden Hero.
In total seven awards and over 25 certificates were presented to learners who completed Functional Skills and Accredited Employability courses. In addition, over 40 learners were recognised with 100 per cent attendance through the presentation of Attendance Scrolls.
Councillor Erica Williams, cabinet member responsible for skills, schools and employment and Councillor Sanjay Shambhu, Chair of South Gloucestershire Council, welcomed over 100 participants and their families to this annual celebratory evening.
Councillor Williams said: "The Community Learning and Skills Service works with local people to help them overcome barriers, stretch their minds and build resilience.
"Through taking part and working with the service, so many of the participants are making huge strides to improve their work skills and are feeling empowered to reach for their aspirations in both their work and home lives. It was great to see how much this recognition means to the participants and their families."
Councillor Shambhu said: "It was a pleasure to celebrate the hard work and success of all the inspirational learners who have achieved so much over the last year, particularly recognising the journeys they have been on.
"Congratulations to all those involved for their successes, and I wish them all the very best for their futures."
Learner of the Year, Richard Williams, heard about the Community Learning course 'Developing your Reading Skills' from his Future Bright career coach. He joined the course and having now completed it has progressed to a Functional Skills English class.
Richard is now, in light of his improved confidence and skills, looking to set up his own garden maintenance business.
Richard said: "I get on well with the other learners in my class and we support each other to make sure we are all learning. My teachers have told me that they are impressed with the progress I have made. I feel if I continue to make progress, I will in the not-too-distant future be able to pursue the job of my dreams."
Last year over 700 learners attended courses in South Gloucestershire covering a wide range of subjects, aiming to help people grow in confidence, improve their skills and progress to further learning or employment. For more information and to find out about the courses and career progression programmes offered visit www.southglos.gov.uk/communitylearning