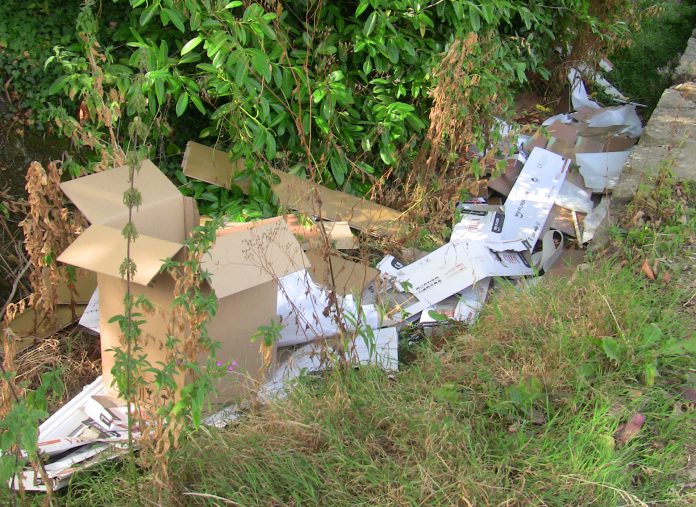 A Caerphilly man has been ordered to pay a total of £1611.50 after being found guilty of committing waste related offences in Badminton, South Gloucestershire.
Mark Gardiner, 57, of Herons Way, Caerphilly, was prosecuted by our environmental protection team after a vehicle was seen fly-tipping waste on a roadside in Badminton, South Gloucestershire, in August.
The court heard that on Sunday 5 August, a witness was disturbed by a barking dog and saw a vehicle speeding off. Upon investigation, the occupant of the vehicle had fly-tipped waste consisting of old laminated flooring, metal, a wooden fireplace surround, underfloor insulation and cardboard along the roadside. The origin of the waste was traced to the home address of the defendant in Wales.
Gardiner was subsequently interviewed under caution by the Council's officers and said the waste had come from his property. He said he had flooring replaced and the old flooring was left outside his property. The defendant alleged that between Wednesday 1 August and Saturday 4 August, two men knocked on his door asking if they could take away old radiators outside the property. It was agreed for them to remove the waste for the sum of £20.
However, although Gardiner stated that the men come round regularly collecting old scrap metal, he was unable to supply any other details to assist in possible identification. Only his waste was found at the fly-tip some 50 miles away from where it had been collected.
Gardiner pleaded guilty to failing to ensure that the waste was transferred to an authorised person and was fined £721, along with a £72 Victim Surcharge and costs of £818.50, totalling £1611.50.
The case was heard at Bristol Magistrates' Court on Wednesday 5 December.
South Gloucestershire Council's Cabinet Member for Communities and Tourism Cllr Paul Hughes said: "Fly-tipping is an issue that has a negative impact on our communities and local environment. In this case, a resident was disturbed at night as waste was being fly-tipped.
"We are keen not only to punish those who offend, but also to highlight the punishments received so as to deter other offenders. The Council invests time and resources in gathering evidence to pursue offenders through the courts and this approach has proved effective in keeping down both the amount of fly-tipping in this area, and the cost of clearing it up."
Rather than directly issuing fly-tipping Fixed Penalty Notices, which is one tool that can be used by local authorities in some circumstances to combat fly-tipping, South Gloucestershire Council adopts a different approach to tackle the problem. Our environmental protection team co-ordinates education and enforcement action, gathering evidence to pursue offenders through the courts.
Statistics show that anyone fly-tipping in South Gloucestershire is five times more likely to be successfully prosecuted than anywhere else in the country and our award winning envirocrime team have a 100 per cent record of securing successful prosecutions for this type of offence.
Residents and businesses are advised to only give their rubbish to an Environment Agency registered waste carrier.
Contractors should ensure that they hold a Registered Waste Carriers Licence and they comply with the Waste Transfer Note requirements.
You can carry out these simple steps to make sure your waste is disposed of legally:
Ask for a copy of the company's waste carrier registration certificate and ask where the waste is being taken. Legitimate firms will be happy to provide this information.
Do not be tempted to use people offering cheap waste clearance on sites such as Facebook and Gumtree unless you have confirmed that they are registered with the Environment Agency
Check whether the waste carrier is registered by calling the Environment Agency on 08708 506506 or by checking on their website http://epr.environment-agency.gov.uk/ePRInternet/searchregisters.aspx
Ask for a registered trading address and contact telephone number for the trader and get a receipt.
Unwanted goods and household or garden waste can all be disposed of at no cost via the council's Sort It centres.
Residents who see illegal fly-tipping are encouraged to report it by using our web form at www.southglos.gov.uk/flytipping  or emailing streetcare@southglos.gov.uk or contacting the Street Care helpdesk on 01454 868000.