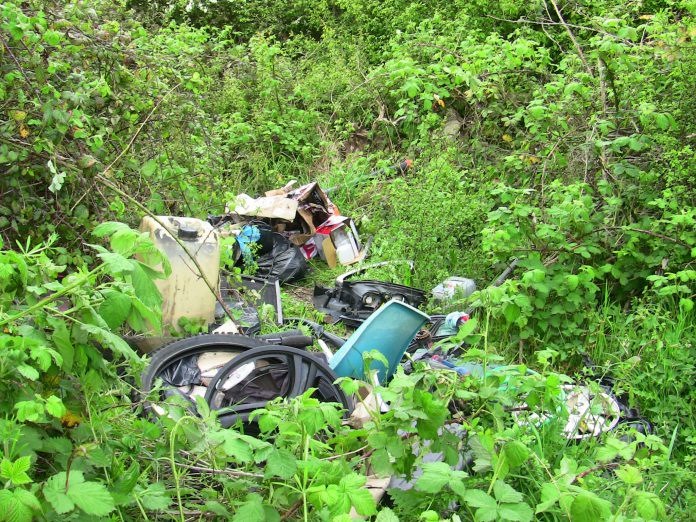 A Frampton Cotterell man has been ordered to pay over £1,500 after being found guilty of committing waste related offences in South Gloucestershire.
Michael White, of Kelbra Crescent, Frampton Cotterell was prosecuted by our environmental protection team after fly tipped household and garage waste (including motorcycle parts, engine oil and cardboard packaging), was discovered on Henfield Road in Lyde Green on 2 May 2017.
Evidence found amongst the fly tip identified White, who attended the council's offices for interview where he stated that the waste belonged to him and had been taken away by a friend but should have been taken to the recycling centre for disposal. He refused to name the person and admitted that he had liability for his waste.
In court, White pleaded guilty to two charges; one for the breach of his duty of care and the other for failing to provide information. He was fined £250 for each of the two offences, plus costs of £977.50 and a £30 victim surcharge (total £1,507.50).
The case was heard at Bristol Magistrates' Court on Friday 15 September.
South Gloucestershire Council's Cabinet member for Communities and Tourism Cllr Heather Goddard said: "There is no excuse for fly tipping which is why our ongoing campaign against offenders continues. It is an issue that affects our communities and harms the local environment, but could so easily be avoided as our Sort It centres are open from 8.30am to 4.30pm, seven days a week.
"The duty of care to ensure the proper disposal of waste rests with everyone. If you fly tip rubbish in South Gloucestershire, you can expect to be caught and prosecuted."
Residents are advised to only give their rubbish to an Environment Agency registered waste carrier.
You can carry out these simple steps to make sure your waste is disposed of legally:
Ask for a copy of the company's waste carrier registration certificate and ask where the waste is being taken. Legitimate firms will be happy to provide this information. Do not be tempted to use people offering cheap waste clearance on sites such as Facebook and Gumtree unless you have confirmed that they are registered with the Environment Agency
Check whether the waste carrier is registered by calling the Environment Agency on 08708 506506 or by checking on their website http://epr.environment-agency.gov.uk/ePRInternet/searchregisters.aspx
Ask for a registered trading address and contact telephone number for the trader and get a receipt.
Unwanted goods and household or garden waste can all be disposed of at no cost via the council's Sort It centres.
Residents who see illegal fly tipping are encouraged to report it by using our web form at www.southglos.gov.uk/flytipping or emailing streetcare@southglos.gov.uk