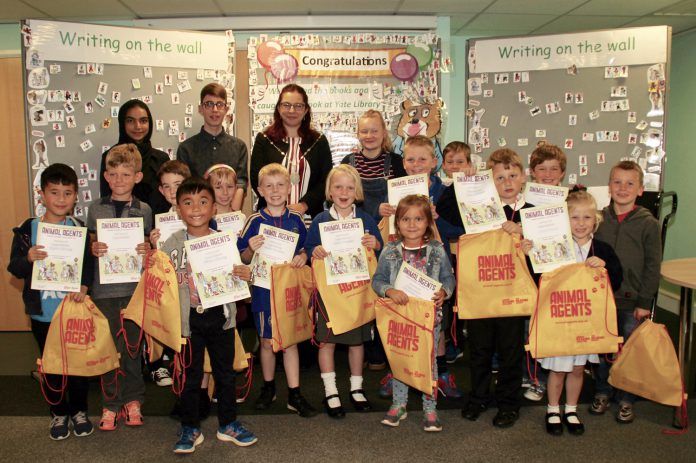 Congratulations to children from the Yate area, pictured at their local library on Wednesday 20 September receiving medals and certificates for successfully completing Animal Agents, the 2017 Summer Reading Challenge.
Celebrating the success of all the children taking part, Cllr Rachael Hunt, Vice Chair of South Gloucestershire Council, presented medals and certificates to the group of local children at Yate Library. The group represented more than 6000 young readers in South Gloucestershire who took part in this year's Summer Reading Challenge.
Cllr Hunt said: "It's outstanding that so many South Gloucestershire children joined Animal Agents and kept reading at their local library this summer. Children's reading can often dip during the long school holidays, but taking part in the Summer Reading Challenge helps them to develop their reading skills and confidence, so that they return to school ready to learn. Congratulations to everyone who has been part of the challenge this year."
This year's 'Animal Agents' theme featured a host of clever creatures and furry friends specially trained to use their skills and natural instincts to unravel mysteries. To complete the challenge and collect their medal and certificate, children read six books over the summer holiday whilst solving clues along the way.
Children taking part in the Summer Reading Challenge said:
"I thought it was a brilliant way to get kids into reading. The way you had to read to solve a mystery was pure genius. It was a fantastic opportunity and great fun." (Eve, aged 9).
"I liked the medal at the end. It made me choose new books." (Ben, aged 6).
Rachel Hathaway, a parent from Yate whose child completed the challenge at Yate Library, said: "My son is a reluctant reader, so the prospect of a medal at the end was really motivating for him and helped us to keep him going with reading over the holiday."
In addition, 70 young people volunteered to support children taking part in the challenge by listening to them talk about their books and helping with activities in the library. To recognise their contribution, volunteers from South Gloucestershire secondary schools were also awarded with certificates by Cllr Hunt at the event.
Summer Reading Challenge volunteers said:
"Being a volunteer has helped me to develop my social skills which has also made it easier to have conversations with people in general. Volunteering makes me feel like I am helping the local community, all for a good cause." (Max, aged 17).
"I really have enjoyed my time volunteering here at the library, it has helped build my confidence and is very rewarding." (Emily, aged 17).
Visit www.summerreadingchallenge.org.uk to find out more details about this year's Animal Agents themed Summer Reading Challenge or for library information visit www.southglos.gov.uk/childrenslibrary