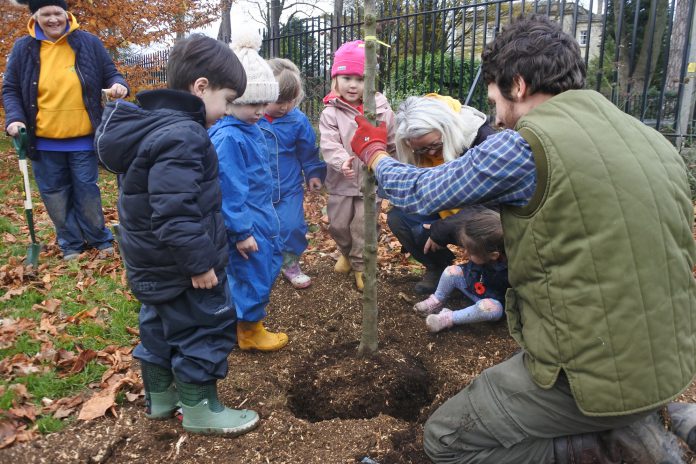 South Gloucestershire Council has been hard at work planting over 5,000 new trees across the district.
The main areas for planting in 2022/23 have been Bradley Stoke North, Downend, Patchway and North Thornbury. Most of the new trees are small 'whips', and around 900 are more mature trees.
The council has also replaced trees that have been infected with ash-dieback.
Councillor Steve Reade, cabinet member responsible for the environment at South Gloucestershire Council, said: "Increasing tree canopy cover in South Gloucestershire is part of the council's Climate and Nature Emergency Action Plan to restore and protect nature and prepare for the effects of the changing climate. We are committed to an ambitious tree planting programme, which hopes to see enough trees planted by 2030 that at maturity will double canopy cover in our area.
"Trees are a vital part of our environment, providing shade, homes for wildlife, better soil health, absorbing carbon, helping to prevent flooding and cleaning our air.
"Thousands of new trees will be planted on land we manage or maintain, such as public open spaces, highways verges and green areas within residential developments, bringing benefits directly where people live. However, most land in South Gloucestershire is privately owned, so it's important for other landowners to get involved and plant new trees too."
The council has also recently received £1.1 million funding from WECA for South Gloucestershire's Tree Canopy Increase Project which aims to double the area's tree canopy cover by 2030. This funding will be allocated to planting trees in the more built-up areas of the district so more people can benefit from them. These areas are yet to be confirmed but will likely include Yate, Chipping Sodbury, Bradley Stoke, Stoke Gifford, Thornbury and Kingswood.
The council held its Tree Week giveaway again in Nov 2022, encouraging residents to claim a free voucher to use towards the cost of a tree to plant in their own gardens and land, and all 300 vouchers were claimed.
Working with partners and communities, the ambition underlying the programme is to speed up nature's recovery and improve climate resilience across the region.
Ash die-back tree removal will be taking place from April on areas next to roads and in public open spaces in Bradley Stoke, Filton, Kingswood, Oldland Common and Yate. Tree removal notices will be installed on some of the more prominent trees.
The council plans to plant twice as many trees as are removed which is just part of its commitment to tackling the climate emergency in South Gloucestershire. Where possible, the new trees are planted in the same place, after a survey is done to make sure they can grow to their full maturity without interfering with utilities, the road network or buildings.
Grant funding from the Forest of Avon has been used to support tree planting.
Find out more about the council's response to the climate and nature emergency by visiting www.southglos.gov.uk/climatechange