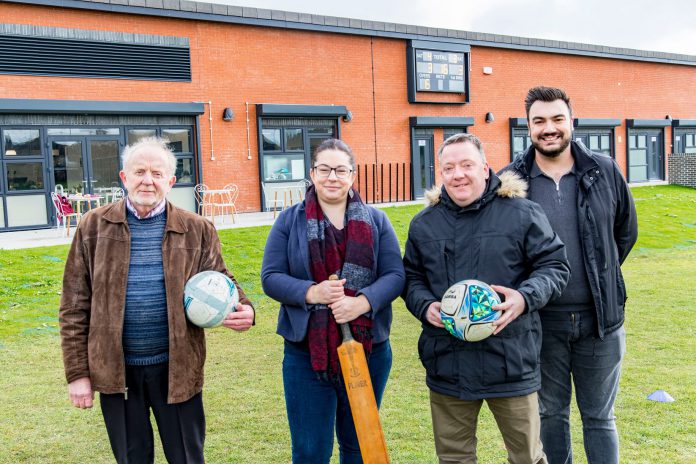 A new sporting vision for Patchway has become a reality with more than £700,000 invested into new sports facilities at Norman Scott Park.
The new facilities, partly funded by developer contributions, include the Jason Franklin 3G facility (an all-weather training pitch) and Twin Lane cricket nets to help budding and more experienced players hone their skills. There is also a new pavilion boasting six changing rooms, replacing the former run-down facilities on the site.
A new café called Snack Attacks is based at the pavilion where people can enjoy refreshments and relax after the sporting action.
South Gloucestershire Council supported the huge sports redevelopment at Norman Scott Park in Patchway by providing £776,460 of Section 106 funding secured from developers. A further £800,000 of funding was provided by Patchway Town Council and £50,000 contributed from Sport England. The vision has also been supported by the Patchway and Charlton Hayes Community Sports Association, as well as local sports teams.
The 3G pitch was completed first, followed by the cricket net facility which has been up and running for over a year. The pavilion was completed very recently, and the café opened in December.
Councillor Rachael Hunt, cabinet member responsible for communities at South Gloucestershire Council, said: "I am delighted that South Gloucestershire Council was able to support the Norman Scott Park sports redevelopment in Patchway by awarding over £700,000 of Section 106 developer funding. This continues our investment in supporting local sports clubs and helping to improve our public open spaces. The new pavilion is a wonderful community building – it has a new café, a viewing terrace and great changing rooms for local teams – I really enjoyed visiting the park and seeing how it has all come together.
"South Gloucestershire Council has an ongoing programme of grant applications to enhance the quality of green spaces. Funding has been provided by various bodies such as developers, National Lottery Heritage Fund (NLHF), and People's Postcode Lottery, among other external sources. The council has successfully delivered almost £14 million of improvements to parks and open spaces since 2015."
The Mayor of Patchway, Dayley Lawrence, said: "We've replaced what was old, depilated buildings with a brand-new facility using partially 106 money from South Glos Council and the town council's money. This is a well-used facility we've got various football teams and leagues that play here including Patchway Town Football Club and there are also cricket teams who play here too. We've even managed to get four new junior teams that will starting this year on the cricket pitch. We're delighted to provide this facility for the people of Patchway."
The development Norman Scott Park is named after the first chair of Patchway Town Council, Norman Scott and as an instigator of the park has been honoured for his dedication to the cause. Jason Franklin is named after a local personality, who has since passed away, who also helped make the whole sports development possible.