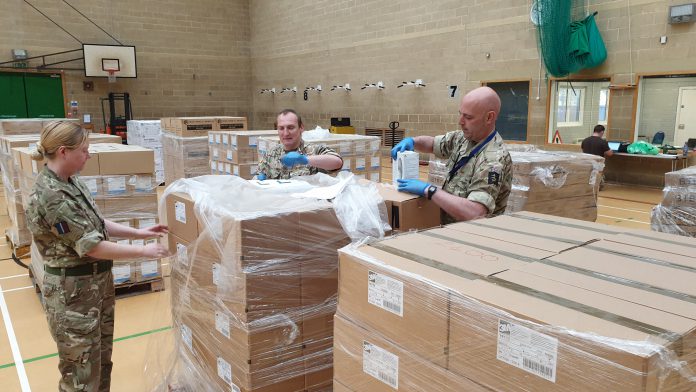 An emergency supply of vital personal protective equipment (PPE) from Government has been received by the Avon and Somerset Local Resilience Forum today and is being distributed to the five local authority areas of Bristol City, B&NES, North Somerset, Somerset and South Gloucestershire.
More than one million pieces of PPE including face masks, gloves, aprons, clinical waste bags and cleaning supplies will be gratefully received by adult social care, and will be distributed for staff in social care, care homes and domiciliary care providers across the area and any surplus will be offered in mutual aid arrangements to primary care providers.
Avon and Somerset Police Chief Superintendent Ian Wylie said: "We welcome this emergency supply of essential PPE equipment which will help protect care home and domiciliary care workers and enable them to continue to deliver critical care services in our communities across the Avon and Somerset area, whilst also limiting the spread of Covid-19.
"We are aware that national supply chains are under significant pressure and relieved that our calls for support in this area appear at last to have been heard but note that this is a bridging stock to sustain our adult social care sector until the new national supply system beds in.
"Providers must continue to make orders with their usual suppliers and given the potential for on-going fragility of supply we still welcome support from local businesses and organisations who are able to donate their own stocks and we will continue with the LRF's appeal that was launched on Friday."
Anne Clarke, Director for Adult Social Services and Housing, South Gloucestershire and representing the adult social care sector across the Avon and Somerset LRF area said: "On behalf of all my colleagues, I would like to thank everyone who has played a part in the mobilisation of this PPE supply over the weekend, from the LRF and local authority leaders who have raised the urgent need at every possible opportunity and at the highest level, through to the military planners who have done an amazing job to arrange the receipt and sharing out of the supplies, to the local authority teams who have organised collection and onward distribution at such short notice.
"It is so important for the people we provide care to and to the care workers themselves who are doing such a brilliant job at this challenging time and also for their own families' protection as they return home each day. It is a real recognition of the critical role adult social care services have to play at this time."
Any businesses that can help with the supply of PPE are asked to e-mail COVIDdonations@avonandsomerset.police.uk. The key items required are water repellent surgical face masks, non-latex gloves, disposable plastic aprons and eye protection.