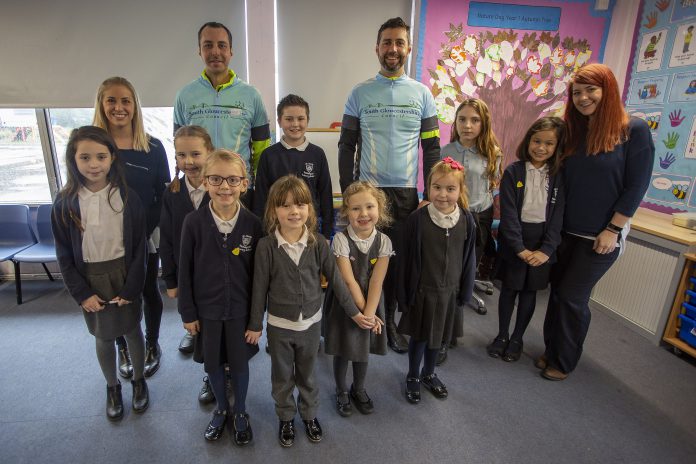 South Gloucestershire Council's Leader and Deputy Leader battled through the elements over two days last week to complete a 230km bike ride for Children's Mental Health Week.
Cllrs Toby Savage and Jon Hunt, who are also the Cabinet Members for Schools, Skills and Employment, and for Children and Young People respectively took on the challenge for charity Place2Be, cycling to every one of the 121 schools in South Gloucestershire Council to highlight the importance of the awareness week (February 4-10) and its message "Healthy: Inside and Out".
Pushing through Yellow Weather Warnings, strong winds and icy rain on Thursday and Friday (7 and 8 February), the pair visited a number of schools on the way that have received grants of £1,000 or £2,000 to find out about the work being done to make a difference for the mental wellbeing of pupils.
Both relatively novice cyclists, Toby and Jon trained for only a month leading up to the ride, taking to the roads of South Gloucestershire whenever possible, and also receiving assistance and advice from reigning Paralympic, World and European Triathlon Champion Andy Lewis MBE.
Cllr Toby Savage, Leader of South Gloucestershire Council and Cabinet Member for Schools, Skills and Employment, said: "I am not an experienced cyclist by any stretch of the imagination. This ride was the most challenging physical feat I have ever put myself through, and that was before the horrendous weather set in – but if it wasn't going to be hard, it wouldn't be worth doing!
"Work to improve mental health is very important as it coincides with the Council's number one priority of improving school standards. We want to see every child achieving their full potential and so it has been very encouraging to speak to so many students and members of staff about what is being done to support and improve good mental health in South Gloucestershire schools."
Cllr Jon Hunt, Deputy Leader of South Gloucestershire Council and Cabinet Member for Children and Young People, said: "Keeping ourselves going as the weather got worse was tough, but each time we visited a school and heard about the work being done by schools and pupils to make a difference it gave us that added motivation to keep the pedals turning.
"Ensuring good mental health is so important, particularly when it comes to young people. One in four people with have a mental health issue in their lifetime, with 75 per cent of mental health issues having been established by the age of 18, so the sooner we can do something about it, the better results they can have in later life."
Catherine Roche, CEO of children's mental health charity Place2Be, said: "Toby and Jon's bike ride very much embodies the Children's mental Health Week theme of 'Healthy: Inside and Out' and we hugely appreciate such activities that raise awareness. Congratulations to them both for finishing their mammoth challenge.
"At least three children in every class have a diagnosable mental health issue, and more worry about everyday things such as school work, family life and friendships. Also fitting in with the theme, Place2Be is supporting teachers and parents with advice on how sensible sleep habits, eating well and exercise help children and teenagers cope with these daily worries."
Sponsorship to support the ride was made by South Gloucestershire-based aerospace firm GKN, with a donation being made to Place2Be. Thanks also goes to the Cycle Route in Downend for offering a service to the bikes being used by the Councillors.