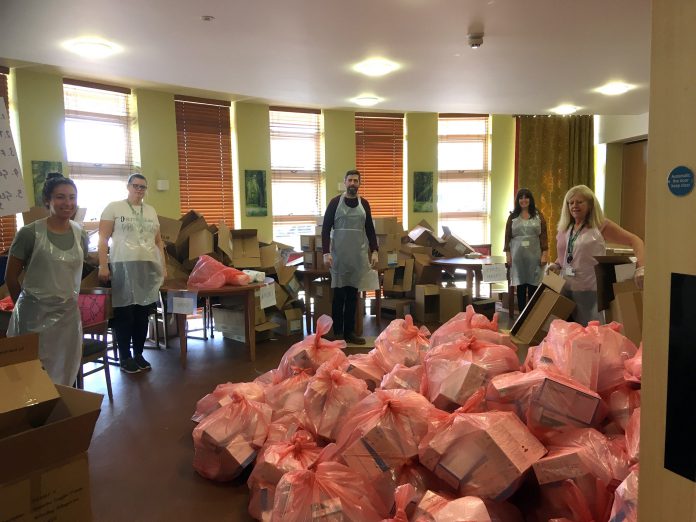 Leader of South Gloucestershire Council Cllr Toby Savage joined council staff volunteers to help pack up and distribute an emergency supply of vital personal protective equipment (PPE) for care workers in South Gloucestershire yesterday (Tuesday 7 April).
A total of 1600 packs are going out to providers and our frontline staff working in care homes and providing social care and home care in the community to tide them over until the national supply is in operation.
Our adult social care team was grateful to receive an emergency supply of vital PPE secured by the Government and delivered to authorities in the region via the Avon and Somerset Local Resilience Forum.
The urgently needed face masks, gloves, aprons and eye protection have been added to our own purchased stocks of PPE and additional items generously donated from local businesses and residents following the Council's social media appeal and letter to businesses.
Although very welcome, unfortunately this is only a limited supply, however it will provide a vital buffer stock and will help workers continue to carry out their duties safely.
Cllr Savage said: "We are doing everything we possibly can to help our carers and to support staff to continue to work safely in these challenging times. We hugely appreciate the ongoing commitment and dedication of all our providers and frontline workers in helping support the most vulnerable people living in our communities.
"Although the Council isn't responsible for providing PPE to all, we recognise that there is an urgent need so are pleased that we have been able to help secure these supplies. The national supply chains are currently under significant pressure and this bridging stock will help provide a temporary measure until the new national supply system is in place. Providers must continue to make orders with their usual suppliers and given the potential for on-going fragility of supply we will continue appealing to local businesses and organisations for donations of stocks."
Anne Clarke, Director for Adult Social Services and Housing at South Gloucestershire Council said: "On behalf of all my colleagues, I would like to thank everyone who has played a part in securing and distributing this much needed PPE supply.
"It is so important for the people we provide care to and to the care workers themselves who are doing such a brilliant job at this challenging time and also for their own families' protection as they return home each day. It is a real recognition of the critical role adult social care services have to play at this time."
Any businesses or other organisations that can help with the supply of PPE are asked to email CambrianGreenDayServices@southglos.gov.uk
The key items required are masks, gloves, aprons and hand sanitisers.